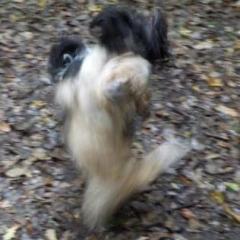 Entry posted by Crinkly ·
242 views
Tara:
Because Cato is so wimpy now, I have to walk all by myself.
I mean, Mum or Dad come too, sometimes, but it isn't the same as walking in a proper pack, with Cato.  He is good at finding sniffy stuff and showing it to me.  And he widdles which is proper Pack stuff.  When I go out with just Dad he wants to walk too fast.  And when I go out with just Mum, she says I have to behave.  And there are lots of big dogs around who wouldn't mess with our proper Pack and Cato, but they might mess with me when I am by myself.
Walking alone isn't much fun!
These are some piccses of when I went out alone.  Mum came with me.  I am wearing my new red harness.  But I don't have any red piggies yet.  Piggies grow very slowly, don't they, Aunties?
We went to Waggy Tails, cos Mum was feeling guilty about making me go out ALONE, and she thought that scrambled egg might cheer me up.  It did a bit.  But I would have been more cheered up if there had been MORE egg, and if I could have sat on Mum's lap.  Or been with Cato.
I had a pink towel bed cos Cato wouldn't have sat on it, would he?  On account of him being a boy.
This is the wall pic thing.
And this is Mum's sniffy tea.  
It was nice to come home and sleep properly with Cato.