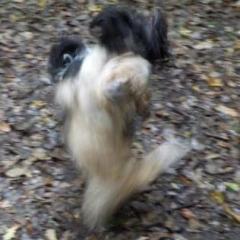 Entry posted by Crinkly ·
174 views
Cato:
Mum just gave us stinky black fish egg stuff.
I didn't like it.
Tara didn't like it either.
It was sniffy and fishy and bobbley.  And Mum said we could only have teensy little bits, on account of it being very posh and Russian and shiny and stinky.  She said it was something called Lumpfish Caviar wot she found in a corner of the Human Food Shop, and since she had never ever ever ever tasted Caviar Stuff before, she got some.
She needn't have bothered.
Dad didn't like it AT ALL, which is why we got some.
I think that Mum is only pretending to like it.
?