Another Play Update..............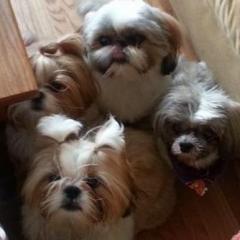 Entry posted by Sunlite ·
186 views
Well there's only 2 more shows till we're done, Friday and Saturday night. It's always bittersweet as you're looking forward to the free time and not having to hear the same lines over and over. You've heard them so many times before, like being stuck in rewind/play for 2 months. At the same time you've spent so much time with the cast, 18 members plus crew, that you've become very close, it's kind of sad to think of not being all together.
We usually go out to celebrate after a show and I did again this past Friday, getting home about 2am. I had several errands to do Saturday as well as being home for a meeting on line by 4pm. Had to be at the play for 6pm and I hosted a cast & crew party immediately after the show. In other words, the party started about 11:45pm. My last 6 guest had finally left about 4:45 and by the time I was done picking up, it was about 6am. Needless to say I was toast for Sunday but it was lots of fun and I'd do it again in a heartbeat, as a matter of fact someone else is hosting the party Saturday night
so there goes, lol.
I did get an e-mail today for auditions for another play which takes place on May 30th. I'm seriously considering it. Will keep you all posted, till next time.......................