Another Life Update For Those Who Want To Know, Lol...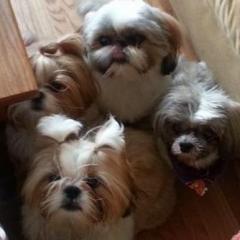 Entry posted by Sunlite ·
199 views
Other than a Shih tzu, what type of pets fo you have?

12 members have voted
Well I guess I should update as it's been a while.
Even though the Melodrama is finished, parties are still happening, we are a party group
. I have a Cast party BBQ to attend Sunday late afternoon so the parties still continue.
The rehearsals for the new play won't start till mid-July so that's still a little bit away. My trip to NYC to see my brothers has been put on hold as one is so busy, he won't even be around. He ended up signing a 6 week contract which will pay him quite well so I can't interfere with that. He said I should still come down but the main point of the trip was to spend time with them. Unfortunately by the time he's free, I won't be.
I've had a few graduation parties to go to and an awards dinner last weekend which was lots of fun, a birthday party tomorrow at a friends, and last night had my last Lions meeting till September where I had been given the title and award of Lion of the Year. I am very honored.
Tomorrow before my party, I have to go to an audition, yes another but I hesitate to say what it's for. Don't want to jinx it so
I'll update again soon after I find out about the audition results, I promise :(