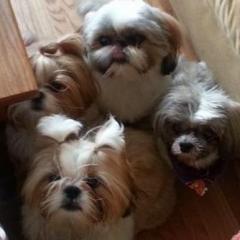 Entry posted by Sunlite ·
248 views
Well the store officially reopened last week and as expected, we have been swamped with people. I really am glad to see the warm reception we're getting from the customers, especially the regulars. They're so happy when they see a familiar face cause we have so many new girls working. We have been closed for a little over two months and our customers have really missed us.
The only awkward things are, since we are new, we don't have anything on sale except for our promotions and not all items came in the same shipment. We have some suiting jackets with nothing to wear them with, pants for other suits, no jackets and of all things, you'd think they would have shipped our basic black suiting!
This past Monday, I had to go to Jury Duty. I am happy to officially report that after wasting a whole day sitting around, doing absolutely nothing, that Jury Duty still sucks! I really think that's why people hate it so much as all you do is sit around and wait. At least I'm done with it!
The weather here this past week has been incredible, in the 90's and sunny! I wish I was home more to enjoy it but I did have plenty of off time, I am glad to be back in full swing at the store
.
The Community Festival is coming along nicely, that will be held on the 8th of Sept. I thought I'd be performing that evening in the play but that's a whole new blog entry.
I am happy to say that my Lions Club will be doing visual screening at this event as well as my youth group providing face painting and temporary tattoos.
Well that's it for this entry, on to updating on the play!