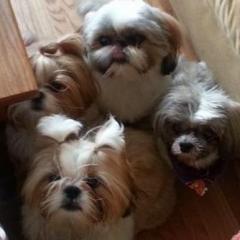 Entry posted by Sunlite ·
221 views
Sorry I have not updated in awhile. The fair that the town puts on is now behind me and I'm happy to say it's over. I was so tired after that 11 hour day, too much really. It is not a favorite event of mine and after working it a few years now, I can really say that I have learned to dislike fairs. I never attend any, I've lost interest in them.
I received an e-mail about 2 weeks ago asking if I'd consider taking a small part in a play, which I agreed to do. It's going to take place the last 3 weekends in October and yes, it's a spooky type play.
Performances would be October 12, 13, 19, 20, 25, 26 and 27 at 8 pm; October 14 and 21 at 2 pm. Briefly, the story is about a famous surgeon who hires a nurse to take care of his wife, whom he says is mentally unstable. The wife claims to see her daughter, who has died, and insists that the doctor killed her. She died of pneumonia, and since no one else can see her, everyone thinks the wife is truly unhinged - except the nurse he hired, who can also see the little girl. There's a couple of twists and turns, and at the end you find out what really happened to Dorothea (the little girl)
Even though the part is small, I am having an awful time focusing on my lines. I'm not quite sure why but I really need to concentrate more.
Work has been super busy and my youth group has started their weekly meetings again. Plans are going well for the Pancake Breakfast on Nov 3, to raise money for the Volunteer Ambulance and I will be starting to sell tickets for that very soon.
Well that's about it for now, till next time.............