SATURDAY 27th Feb: Visiting and town park
---
Sidney:
They were very annoying last night.  They shut my window earlier than I wanted, and they put a donut bed on the big bed.  Mum says that it is so I dirty the donut not her sheets.  How insulting is that?  As if I wasn't spotless.  Anyway, they put the donut between their pillows.  So it is in an acceptable position.  But I still wandered about and stood on Dad's sensitive bits in the middle of the night.  Well, I have to, don't I?
They also came to bed later than I wanted.  You would think that after being away for so long they would want to come upstairs and be with me.  I had to stand at the top of the stairs and call them, otherwise they might have been up all night. 
We finally got settled.  The Brat and the Runt were eventually put into their mutt-pen, and we could settle down.  And then I could REALLY purr.
Cato:
Today we went to see Dad's parents, Pop and Nana.  They are great.  Dad phones before we set off, and when we arrive, the door is unlocked.  We have to wait for Tara to remember to sit, and then Dad silently opens the door, and we go CHARGING in, down the hall, through the door and skittering into the front room in a tight racing turn.  I usually get there first, cos Tara is too wide on the corner, and I slip past on the inside.  Then we bounce and bounce.  Pop is great.  He wrestles and doesn't mind if we chew his fingers, and he knows how to ear rub.  He has known lots of dogs.  Although he always thinks Tara is a boy, which is very funny.  But she doesn't mind.
Nana always has some chew sticks ready for us.  I have to Meercat, but Tara is too rough and always pushes in and snatches.  I have to eat mine faster than I would like, or she would steal it!  She is very greedy.
Nana has a teddy bear on a small chair beside the TV.  I always sniff it to say hello.  This was the first time Tara hasn't barked at it.
Pop and Nana are great.  They have a Jack Russell called Rolly, who is very fat and a bit dim.  He nearly went for me when I was very very little.  We get on OK now in the park, but he doesn't like us being in his front room.  So he is shut in the back room when we visit.
Mum:
Bad day for pics today.  Very dull, grey and overcast (but quite warm).
So here are some from yesterday when we stopped to walk the dogs before the journey home, in the Hebden Bridge park.
Dad took them up onto the skate park, which was hilarious.  Little Miss Mountain Goat made a bee-line for the highest point.  Of course!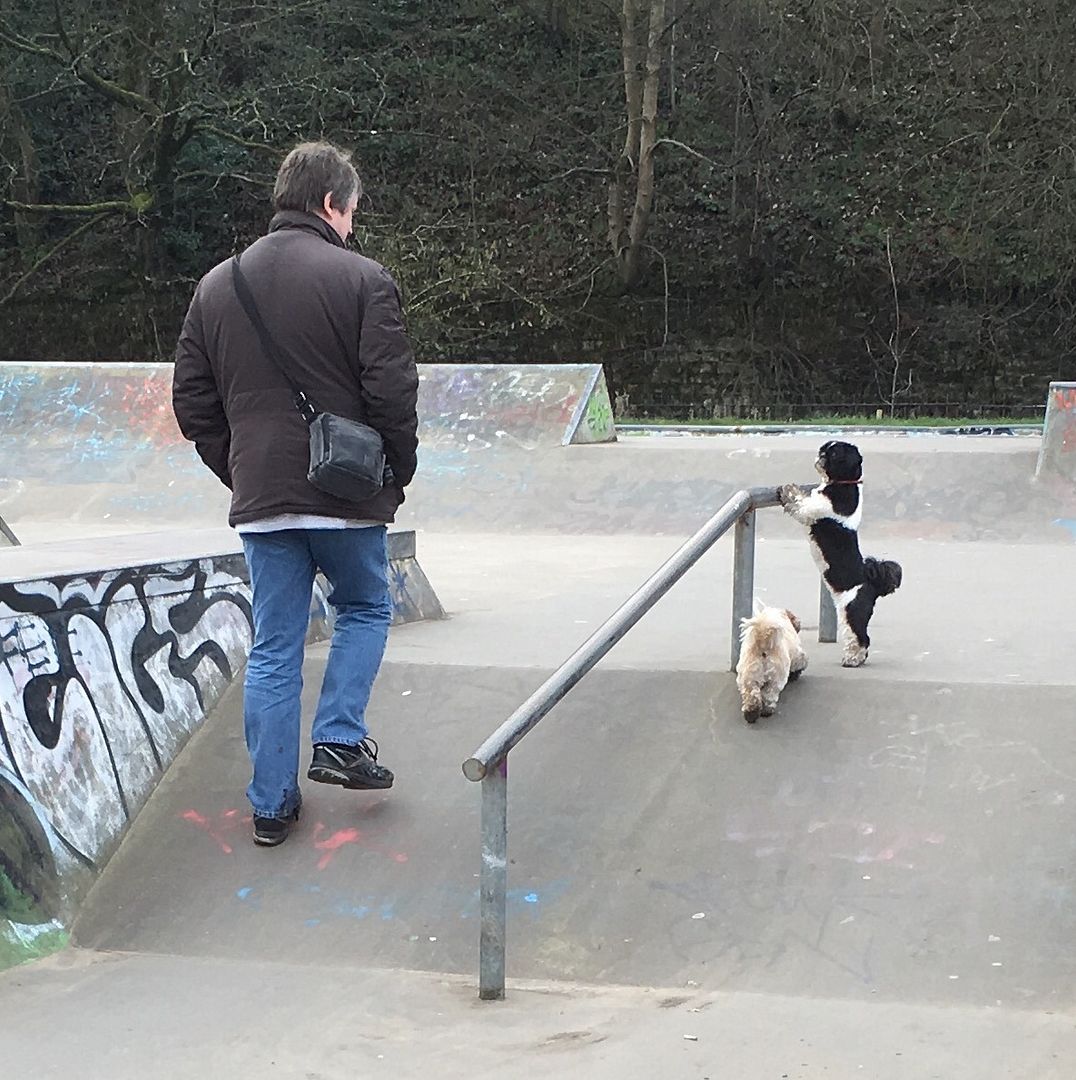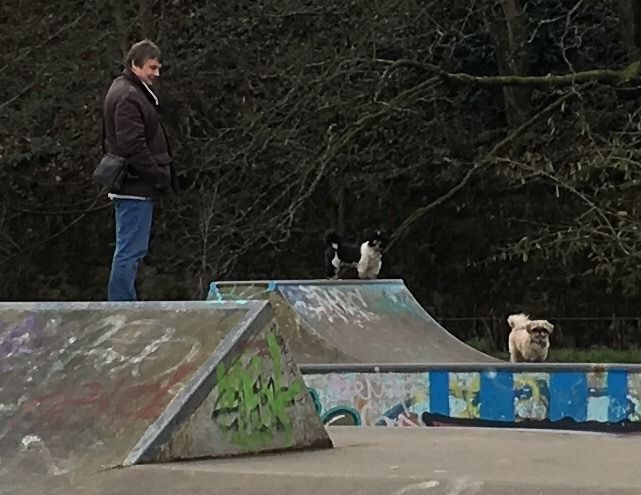 I LOVE this one!  Look at those dirty feet.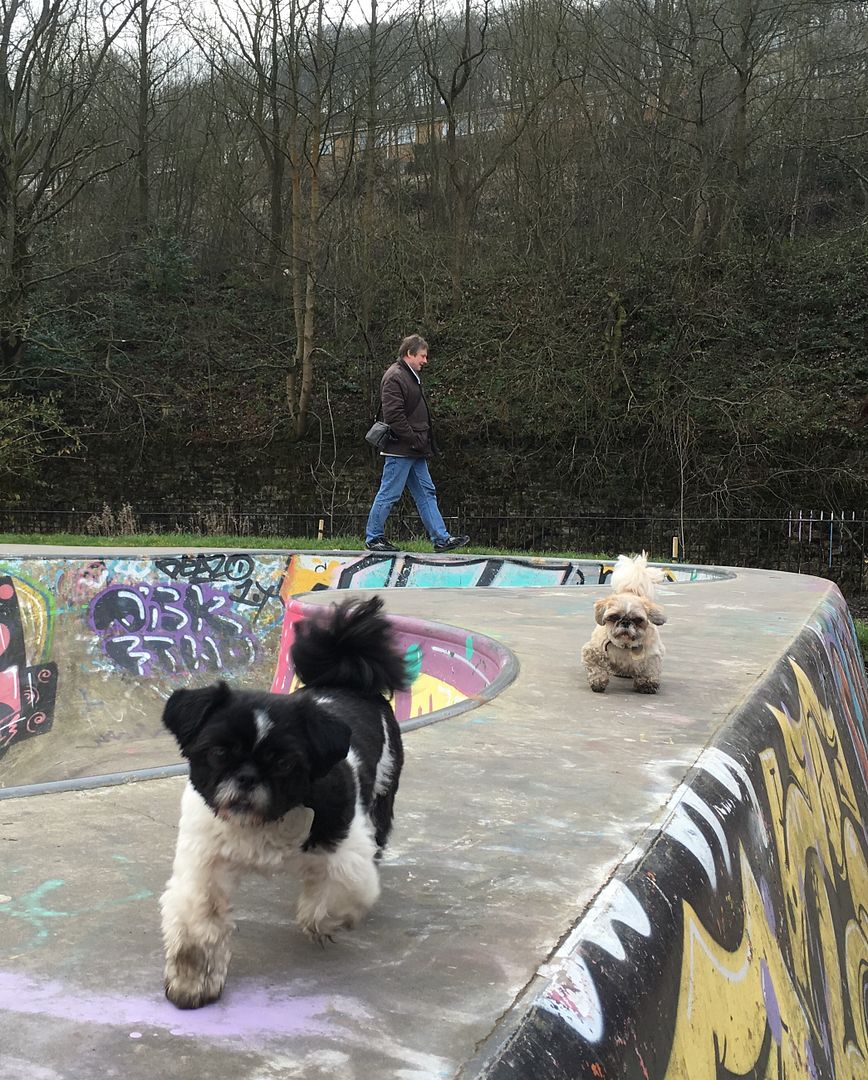 These, stunning hellebores are from today's walk - the photo and the light REALLY fail to do them justice.  Can't have any in my own garden, because they are poisonous to dogs.

Tara:
After treats and games and bouncing at Pop and Nana's we went to the town park.  You haven't seen it before.  We like it.  And now I am grown up, I am allowed to run about off lead.  When I was little, I wasn't.  Not fair.  It was because there is a lake, and Mum thought I would run into the water after to birds, or run up to the ducks and geese and get pecked.  I mean, Duh!  As if I was ever that stupid!!!
Mum kept looking at these flowers, but wouldn't let me run through them.  Wot is the point of flowers if you can't bounce on them?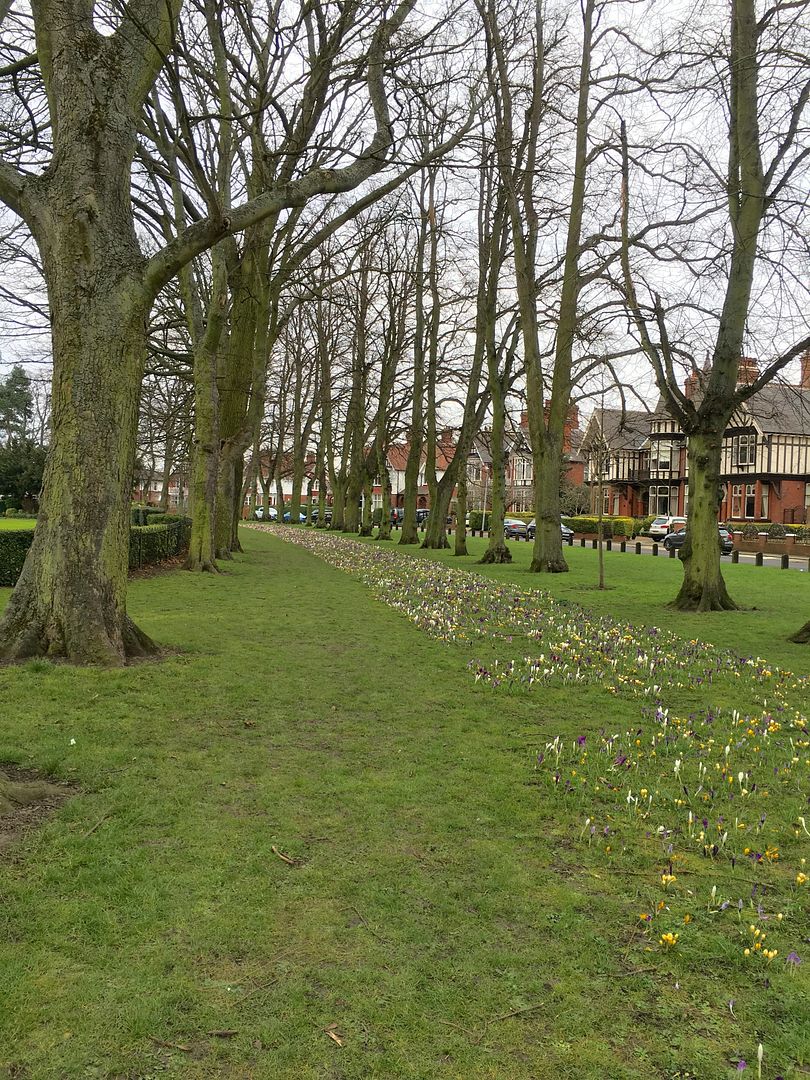 Dad wanted a Chai at the cafe, but it was closed.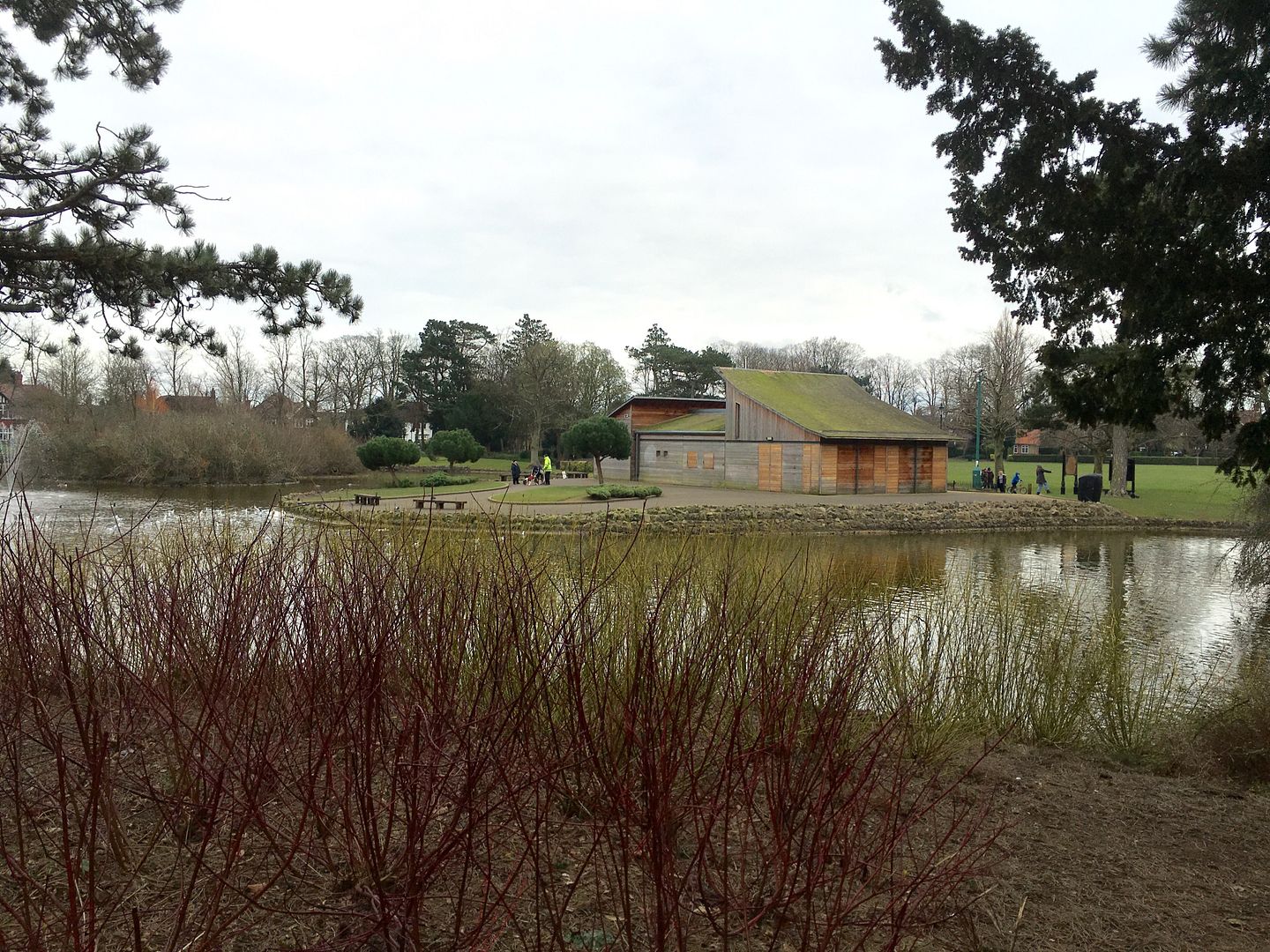 I got into trouble once last summer, running in through the cafe door after Dad.  He said he was VERY VERY VERY embarrassed.  All I did was follow him, and run about under the tables, and eat crumbs, and sniff things, and say hello to people, and when Dad tried to get me, we played a great game of hide and seek around the tables.  Everyone had great fun, but then Dad was cross.  Don't know why.  That was when I was littler.
This is the bowling green.  I am not allowed onto the green.  I got through the fence once last summer, and ran about.  Everyone had fun.  Except Mum, who was a bit cross.  But now I am bigger I can't fit through the gap.  Anyway, there weren't any people to have fun with in there today.
This is one of my favourite parks, except that we don't come here often, and people seem to get cross for no reason.  And I'm not allowed to do anything fun.
We did play Ping Pong though.  That was good.