Well it's been almost 9 weeks my two hasn't had a bath and today was spa day with some good and some bad.... but we got there.
First I stole a piece of wood from the recent decorating....measured out four sections and marked the center of each, then using a wood spade bit drilled in to make a shallow well....then cut off  the 4 sections .... Set the legs of my grooming table in the shallow wells and set it up. It's now the perfect height so I'm not bending over anymore and I can do all my grooming with a straight back. The extra clearance also allows me to store my clipper case underneath in easy reach...and also my multi plug extension lives there to plug anything in easily.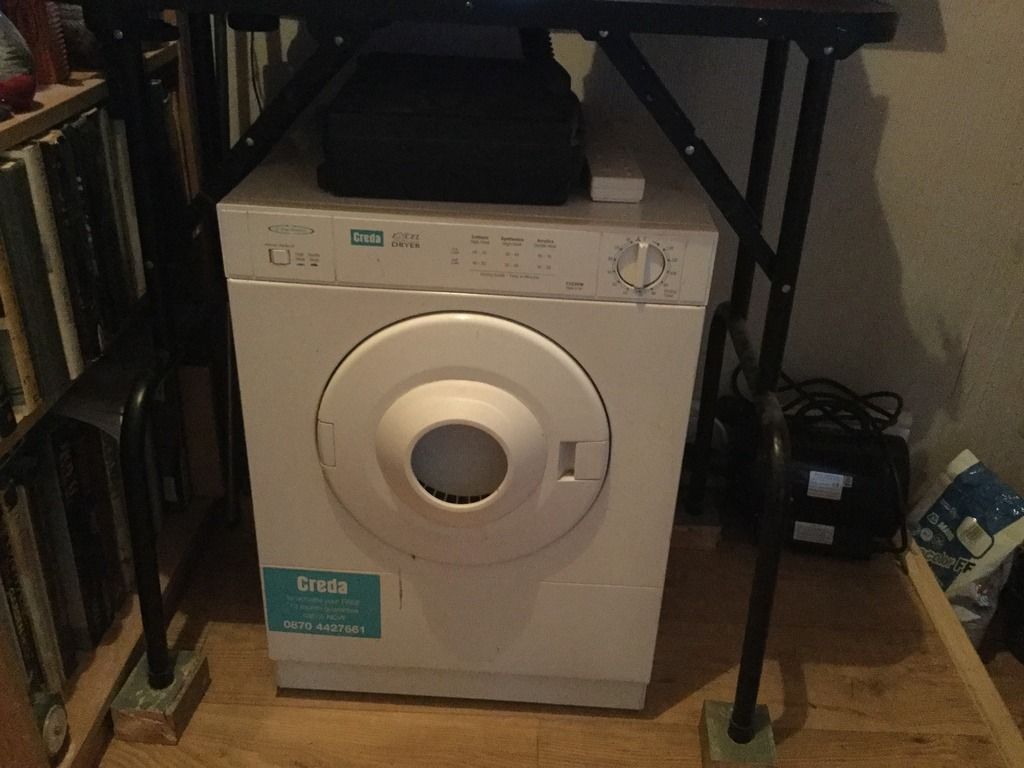 Modified the baby bath first....added a front loop to clip the collar to so they can't turn around and have to stay stationary.....did this with the tub and it really works well so I stayed with that idea.......Enlarged drain and used existing pipe for drainage since the one I ordered was to large...needs more work and a larger drainage pipe......The pipe from the pump is too large...way to large...Too much is pumped out to fast....need a smaller pipe. So ended up not using it till all my modifications are made.....I need to ask Pam what size pipes she uses...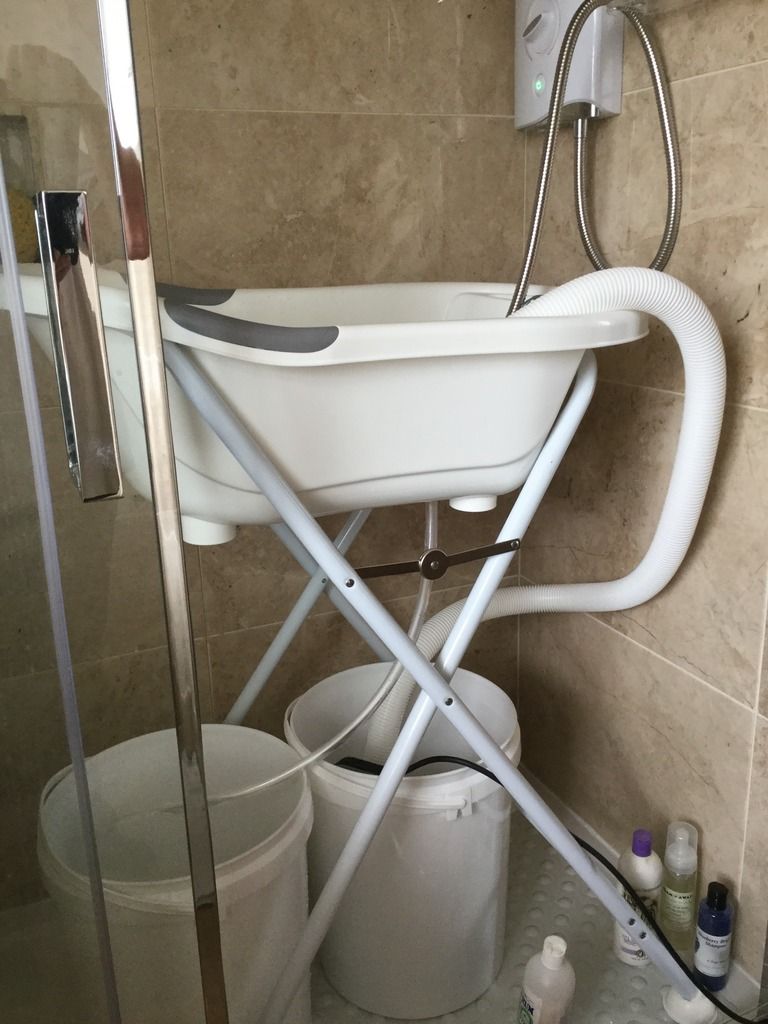 So ended up using the bath and existing drain but using the shower head only for bathing. Poured extra Secret Weapon into the Spectrum 10 shampoo bottle and shook well. Measured out 1 ounce into mixing bottle and added warm water. I chose Spectrum 10 because it conditions the hair so well and I needed everything  I had to get all the tangles out when dry. It worked a miracle along side the secret weapon and I had no trouble working out knots and matts.
Pip was good in the bath and since he's scared of heights he didn't move a muscle. Abby on the other hand freaked out and showed her butt trying to get out. I gave her a stiff talking to and she calmed down within a minute and gave me no more trouble. 
Both needed a full groom but my back was ok because of the height of the bath and the new height grooming table...So glad I made those little changes.
I found out why Pip has been snapping at my hands or growling when I touched his front paws. He had two tight mats in the groove behind the toes...the SW had relaxed them and I scissored and clipped them out. He had gotten some of the construction goo between the pad walking around while we worked and I had failed to see it forming..luckily everything dissolved or softened to cut them out. Sorry Pip.  After removing the lumps he allowed me to cut his extra long nails without incident. Abby also had long nails but no mats between the toes.
Pip also has been growing yeast and red dye in his fold again....what a mess he was....He has one eye that has watered constantly from dust we made but inspecting it closer after clipping the long hair away I saw two broken off lashes it looked like and it's resting against his eye......so everytime  he blinks it must scratch which makes the eye water more......I see no reason why the other eye waters......so thinking Monday morning I shall make him a appointment with the vet and get this sorted out before it scratches his cornea......He got a close cut around the eyes and between to cut away the stained hair..but he looks better with it short anyway.
Miss Abby just got a facial trim and her hair has grown out enough to start back with her top knot...only a sprout now but it will grow....I was surprised she remembered how to lay her head down and be still while I made the two knots and tied them together and didn't even try to rub or scratch them..Good girl ❤️  She was rewarded for being good with a chew...her Favorite. Lol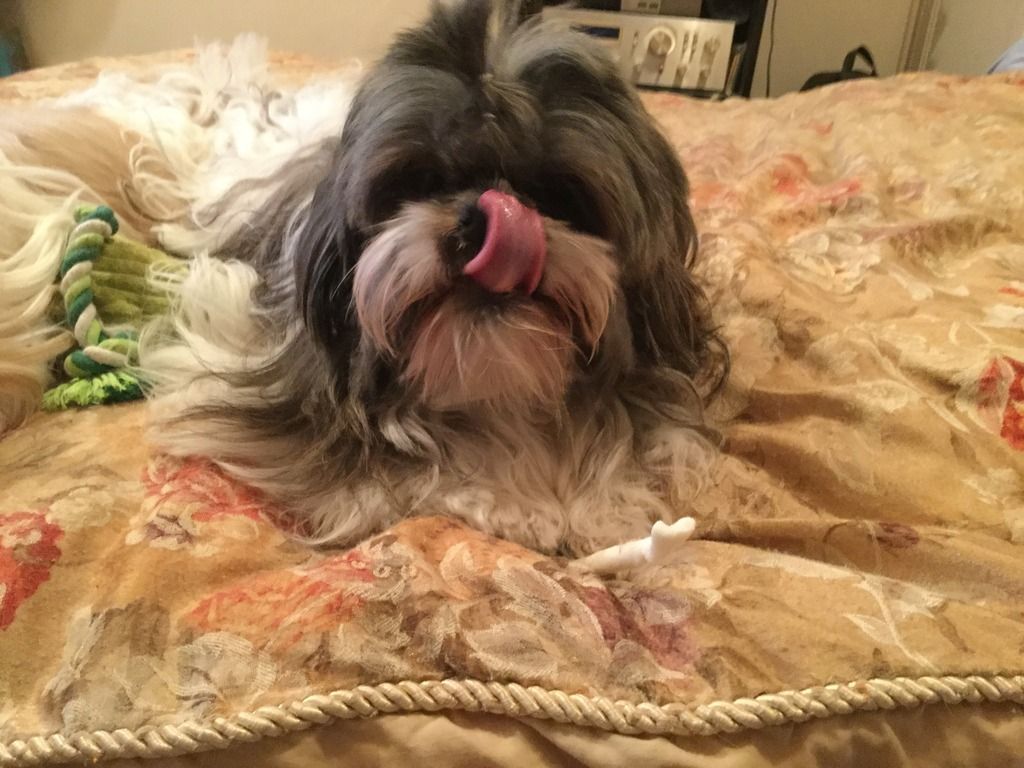 Both are exhausted and after supper all they wanted to do was sleep...So hard day of ups and downs but it's been worth it all to see them soft and silky again.