My Tzu Crew are all bonded....they are the terror pack!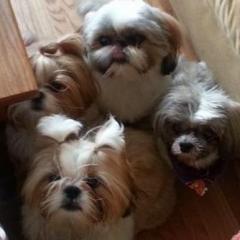 Entry posted by Sunlite ·
424 views
Well I know they are, and they've learned that there's strength in numbers as well as an intimidating stature.
On the 4th of July, we were at the next door neighbors party for a bit with the tzu crew. They were finally relaxed and not afraid of Teddy, the neighbors 70 or so lb Goldendoodle. Max used to pee himself whenever Teddy came into our yard and went after him to play so this was real progress until....
Decker was sleeping next to my chair belly up. Teddy decided to put his nose in Decker's junk and well....
Next thing I know, Decker has this high pitched bark and starts chasing Teddy. Teddy wasn't sure what to do and then all of the other 4 joined in chasing Teddy. I never heard such a big dog emit such a high pitched cry! They never did anything to him but it scared the heck out of him. What a job getting the 5 to stop. This giant Muppet on steroids jumped into his Mom's lap crying....
Now, whenever they see Teddy trying to go into our yard and they're out....oh boy! It's like they're a gang protecting their turf! I tell Teddy to go home and he doesn't even dare cross the property line....
Yesterday morning, they didn't even think twice about chasing Charlie, my other neighbors dog back home, had me running after them in my jammies and bare foot! Charlie ran home and was crying and scratching at the door. They chased him about 1/2 way (he lives about 4 houses away) and then came back to me, while looking to make sure he wasn't coming back....
I can no longer say the words go home without the younger 4 going to look for a dog that doesn't belong. My neighbors are notorious in letting their dogs roam the circle (the 2 they chased are frequent visitors) decorating my and the other neighbors front and back areas.