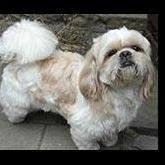 Entry posted by PipsMom ·
3,607 views
Well it's day 1 for a healthier me..... Journey to lower my cholesterol, lower blood pressure, lose pounds and stop smoking. That's a lot isnt it....hope to look back in the coming months and say it was all worth it.
Started last night sipping cinnamon tea instead of coffee..Good for arthritis inflammation ....... I'm a die hard all day long coffee-holic and this isn't going to be easy so let's see how bad the withdrawal is going to be this time around .....I've done this before and the first three days are the worst with headaches from hell and crankiness. 

Started the morning off and replaced coffee with Chaomine Tea and a tsp of honey...very soothing. Cooked breakfast for the hounds and hubby...I didn't even miss the toast and eggs I usually have. Last night I made the oatmeal yogurt recipe everyone is talking about..Now that isnt half bad if you have never made it......Layered oatmeal, Greek no fat yogurt, blueberrys, 2 tsp applesauce, one sliced banana, drizzle of honey, flax seeds and soy no fat milk..covered and refrigerated over night. Breakfast felt like I was cheating.......yummy surprises of cool fruit and a hint of sweetness from the honey. I actually enjoyed it very much and will play around with the fruit combo so I don't get bored with it.
Mid morning I was getting antsy from sugar and caffeine withdrawal. So off the kitchen armed with new recipes I've found on Pinderest. I baked 9 oatmeal, banana and applesauce muffins...I don't know who loved them better...me or Pip....Abby refused. 
I wasn't hungry at 4 but the pups were gathering for their 3:30 stare telling me it was time for supper....wasnt as hard as I imagined cooking theirs, hubby's  and mine so it all come up at the same time...Baby steps I kept it simple. Paws has boiled chicken breasts and veg, hubby had  chicken tikka and a baked potato. I had vegetarian...sweet potato, Brussel sprouts and 1 oat cake. Best thing is I don't feel bloated like I usually do after a meal.
End of day one and I haven't snapped nobody's head off yet ...not nervous but a little anxious ...hoping for a good nights sleep and start my day 2.
Must remember to weigh and log down weight tomarrow morning...slipped up and forgot ,