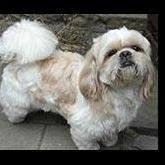 Entry posted by PipsMom ·
455 views
Yep I sure did. Two nasty holes and a tear on the little bone on my wrist, boy did it hurt. But I wasn't mad because it was ME that was responsiable for her reaction...
I know how Abby has always been while sleeping heavily...Learned real quick how she reacted when we first got her if Pip even sniffed close to her or I'd move her over in bed at night...you just don't mess with her while she's sleeping.........She'd turn into Cujo snarling and biting......Well a year had passed and she about gave up that response to being disturbed. I have always thought in her previous puppy mill atmosphere a dog had jumped her sleeping and it must have been pretty nasty because her reaction is over the top.
Last week she was in a hard sleep in her day bed and I was waking her gently by talking to her to wake up time to go cook tea......No response...she was out like a light. I made the mistake of reaching down and jiggled her saying Abby wake up darling.....Her response was fast and immediate to the hand touching her...she bit me.
Just as fast as it happened she must have come to her senses and the look on her face was of horror at what she did to her mommie. She was so pathetic clammering up to get in my lap to see if I was ok. But I had to stop the bleeding first before I took her so I just walked away and began disinfecting and bandaging to stop the blood. She waited with those innocent pathetic eyes watching my every move.
After I finished I sat down and let her come up where she showered me in kisses on my bandage ....Bless her....lesson learned.......You can take the dog out the puppy mill but you can't take all the puppy mill out the dog.