Canned Dog Food (warning)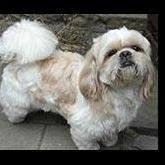 Entry posted by PipsMom ·
548 views
We had a funny old day here filled with worry for our dear Abby.
She was fine at first but 30 minutes after waking she ran to the bathroom to proceed to vomit then dirrehea on her pad. She then laid on the top landing and vomited more but all mucous..... Then to the lower landing she vomited even more still mucous and lumps ..... Took her outside where she vomited even more stingy mucous. She stopped momentarily for 15 minutes and suddenly rushed upstairs....(something she does when she has the upset tummy is go to the bathroom to be sick on her puppy pad instead of the floor). But she stayed quite so I came up to find her on the bed and sick again. So pitiful was her little eyes....never mind the duvet would wash I told her.
Retracing what she ate last night there was nothing out the ordinary except a new chew I bought her as a treat....Pip didn't like them so he was unaffected....picked up her old one and threw the rest of the chews away.....She didn't eat nor drink till supper time and suffered no more throwing up but obviously didn't feel good so I left her sleeping to recover on the sofa.
It wasn't till supper time I was going to warm up the remaining canned dog food she has been eating for Pip...First thing I noticed it didn't look right..not the usual meat color. Sniff!  OMG is was foul!
Then I started beating myself up for not noticing the off Color last night..she ate from the can last night but Pip didn't want any and had homecooked food only....that's why he wasn't sick. I had served my own paw food poisoning..... Tell you I was feeling lowest of the lows....only thing I remember about opening the foul can last night  was it was over packed to the rim and no head space..no other sign was present.
So opening another can tonight I sniffed...smelled like meat, looked of meat and she ate heartily. From now on any canned dog food gets the nose test first time, everytime.