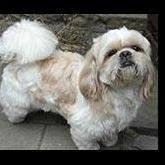 Entry posted by PipsMom ·
468 views
We always thought it  best to teach some sort of recall and enforce it constantly daily with simple command words.....We'll today it was needed big time. Hubby took our next door neighbors trash bins around and forgot to close our gate. I have a phobia and always look out to check it whenever I let the terriable two out for a wee and play time...This time to my horror it was OPEN and they were headed down the path but at the end our other neighbors house.......They must have thought they were going for another walkie and happy as Larry about it......... They stopped and look back like in innocent expectation......You coming mom?
I always say when time to go indoors....Inside.... and  most of time they come clambering in right away.....So I sternly said "inside" and pointed.....Abby came right back and went to her dad who was at the door by then, frozen in place by shock! But Pip looked back again and went right on around the corner. I had to try to run before he got to the road...these feet don't run good anymore....When I reached the corner I again said.... Pip Inside...and he stopped and crouched down for me to pick him up.
I tell you I was literally shaking after what could have been but remembered to praise them for good Inside....Thank goodness I taught them one thing that could save them....it could have turned out so much worse. 
10