Happy Birthdays at Uncles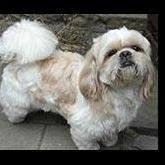 Entry posted by PipsMom ·
396 views
Abby
Aunties you should have seen us, we went down to our favorite Uncles for his birthday dinner....Mom forgot her phone so no pictures...(sorry) 

I learned to fly in his great big garden...yep I sure did! Mom says I was flying 90mph round and round as brother tried to catch me...but he couldn't 
 I was flying I tell ya...my hair blowing in the breeze as I raced around...brought a tear to mom's eyes....don't know why though...silly mommie .....
Mom:  I had a tear in my eye because of how she was acting last night...all shaking and scared in a dark corner from kids setting off fireworks...it was like day one when I got her...all scared and insecure)....she slept near my head all night as she was still scared.....It was good seeing her back to being herself running and having fun.
Cousin Oscar wouldn't play at all though ...he has really turned into a right grumpy butt and mom had to separate him and brother twice.....Pip wasn't backing down and stood in to protect little ole me......Oscar isn't fun anymore

I was so tired of flying by the time mom said we had to go home...I could bearly make it up the big hill and kept sitting down......It's hard work flying ya know.
Brother and and I were so glad to be back in our dens where we went straight to sleep. Zzzzzzzzzzzzz