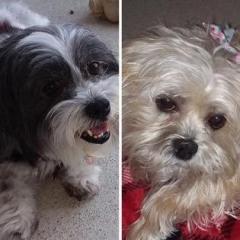 Entry posted by Missysmom ·
263 views
Hi Aunties, Missy here! Yesterday was our April Outting and I get to tell you bout it cuz well I planned it! Here we go!
So I Really am trying to be nice Aunties and specially to win my daddy back!

 so I asked mommy to put Pipers hair up like lots of you girls with black & white hair do, with piggies! I watched mommy the whole time and made sure she did it right, I think she did!
And, of course, I'm ready to go but... where are they?
So we started our day at my favorite restaurant, it was Pipers first time at a restaurant- what a good way to try to makes friends huh? Sharing mom & dads egg & Vermont cheddar cheese breakfast! Yum! And Yes we were very good girls there! We even made friends with a lady there! 

 Oh yeah... it didn't take long for Piper to lose one of her hair bands so mommy had to take her hair down... it's Ok, she really doesn't have much hair grown back yet, dr said probably 6-8 weeks at least.. we'll try again later!

Here's where I picked to go- it's called Fountainhead and yup it has some historical stuff but it's also Real big, probably take lots of times to see it all!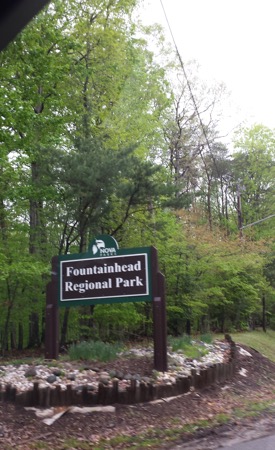 Hey look what Piper found, a cool bridge! I was with dad and so she got there first...
Ooh geez, a break already! Ok well me and Piper waited patiently... I dunno know why mom & dad can't just go out here with us!

Well after our little detour we Finally found the trail! Here we go...
but Look there is a Problem.... Piper can Not go first, we need to regroup! 

Ok Much better! First sniff! Ya know, I just wanna mention this here... Piper Doesn't sniff... I mean who Doesn't wanna sniff?? I don't understand her.. so she's better off with dad anyway, he's a point a to b type person like her!

 Me an mom are just gonna sniff here a bit!
Oooh Looky an old cemetery from the 1700s!
Piper did come to look but she didn't wanna stay long... told ya... No sniffs...
Here's a picture of more of it cuz I Know we all Love cemeteries!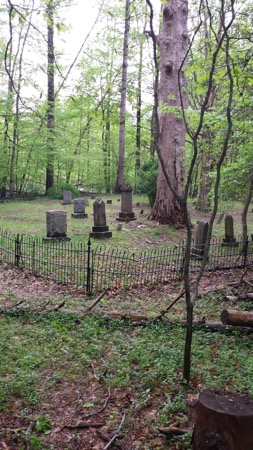 It was pretty out here but look how bumpy the path is.. 
It was hard walking for daddy so Piper helped him, a lot he said, so that was good! I had to help mom too cuz she found a tick between her toes this morning so her footie kinda hurt too.. but I'm Real glad Piper helped daddy so he could enjoy the Outting I planned!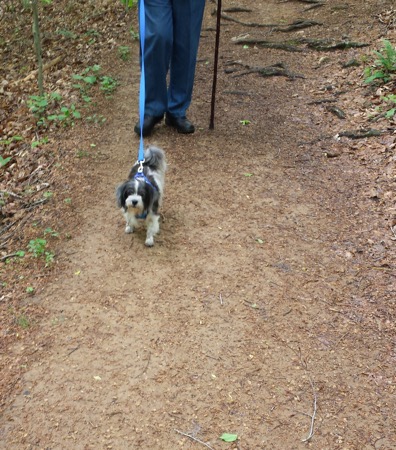 See how purdy it was out here!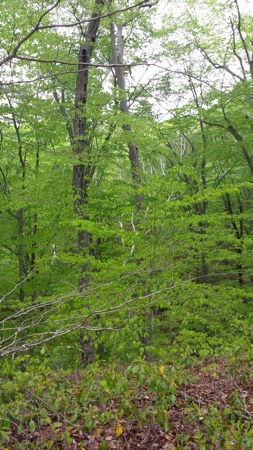 ooh look what's under me!!
Here maybe you can see it better now! I gotta hide this from Piper... she'll just roll on it, kill it and try to make us have it for dinner!

 she does that All the time, it's gross!
Here's some more of what we saw! They have a very nice lake there!
And a dock for fishing! Maybe we can go, wouldn't That be fun!!
Oooh Look Aunties we went 18 miles!! 

 Not Hardly!! The whole trail is 18 miles, we just did the beginning but the sign still gave us credit didn't it?!!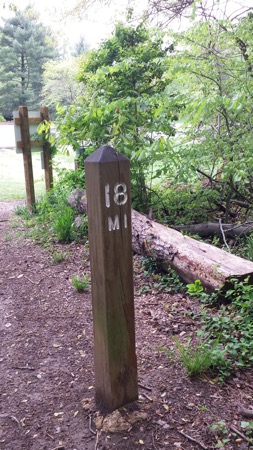 It was a good Outting I planned, wasn't it Aunties!
I'm sad it's over, I wanna go again!
Best part was I was Lead, oh Yeah!!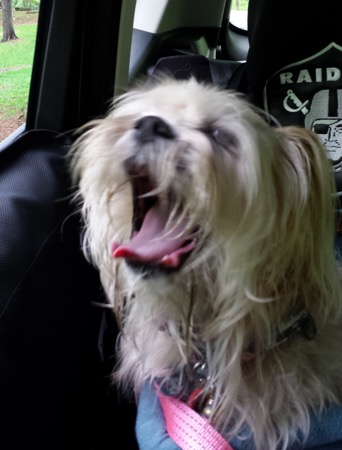 Ok, we're ready to go now!
Geez we haven't even gotten outta the park and look who's asleep Already!
Ahhh, mommy can't find her again, cept that Little piece of hair!
Hey I'm Awake now! Where'd my daddy go and Why'd we stop Here! oh yeah I wanted to show you my New collar! 

Piper
It was a Great day and I'm off to plan next months outting- for My Birthday!
Missy
And I'm off for a Looong nap, I'm Beat!

Piper
Oh Yeah Aunties... I was Real good on our Outting, Wasn't I? But ya know I'm Still Not her Friend... I'm just gonna stay hidden here by mommys chair and hope she leaves!

Missy