Piper meets Touché up close!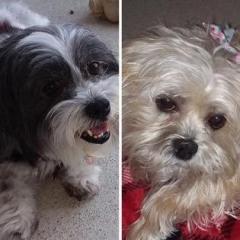 Entry posted by Missysmom ·
422 views
Hey Aunties, guess what?! Member last week I was sayin how daddy had some things he had to do and it was girls day and well we had the other blog bout turtle love?
Well the next day, it was girls day again, and mommy took us for a walk and guess what we saw when we opened the door?
Touche!
so I quick got Piper so she could meet him proper! Well little Piper didn't know What to think!!
mommy let her get kinda close but told her to be careful that Touché might pop his head outta that shell! Piper didn't stick around too long!
WOW Aunties I ain't never seen nuthin like this!!

Piper
but not me! Momma let me give Touché a big ole kiss, I just Love him sooo! I know Touché would Never snap at me!

Missy
ps sorry it took mommy soooo long to put this up, I kept tellin her to!