Piper's new jacket & more!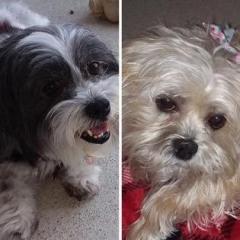 Entry posted by Missysmom ·
330 views
Hi Aunties,
i wanted to share some stuff with you since today Piper has been here 2 weeks! Yeah Really! Well anyway, it's been cold here and raining and ya know Piper doesn't have a lot of hair grown back yet... soooo I tried to lend her a little hoodie to wear to stay warm...
yeah didn't work too well, she's Real little and umm this just shows.. pink Really isn't her color!

So I had mommy order her something to fit her! Ya know we can't get her much yet cuz she's still real skinny an mommys trying to get weight back on her...so hopefully if mommy does her job right anything we get now won't fit soon! And yep she is filling out some! 

 Anyway I'll let Piper show you!!
Aunties LOOK, I ain't Never had nuthin Like this! Yeah I Know, you can't see me real well can you??
Maybe better here?? Well it's a Jean jacket with a hood! I sleep a lot and it sure helped me stay warm sleeping today! I just got it in this mornin and good thing cuz it's Cold!! But I Just Had to show you!!!
Well yeah Here then! I learned Real quick that mommy takes Waaaay too many pictures and I just run from her! Mommy says she hopes this isn't blurry... everything looks blurry to mommy these days... hope you can see me ok! This is Real special! I have my own box for my stuff now!! And Maybe, just Maybe mommys gonna take me shopping this week!! 


Piper
Oh Aunties, it's Missy again! Did you see Pipers little pony?? She doesn't have enough hair for piggies yet so I had mommy give her a pony instead! And Look what else!! I'm showing her how to lay on the table! She's Never needed the noose or nothin, she's learning quick and me an mommy are Real happy how she's doing with her groomin! Ya know I am cuz I'm teachin her!!

Any way I have BIG news today!! Did I mention today it's 2 whole weeks Piper has been here??! Well ya know that we've been layin kinda sorta together some? See..
and today we Played!! It all started when I let Piper come join me helpin mom and dad fold clothes on the bed! We look pretty innocent here huh?? But see Piper, she's the Lookout!! Yeah then we wrestled and I tunneled under the covers and did sneak attacks! Daddy couldn't believe we undid All the clothes they folded!! Yeah we did!! So we left and went and wrestled on the bed in the other room! Mommy and daddy were sooo happy and well we were too till I decided I didn't wanna play no more! Piper doesn't Really know when to stop playing but she finally figured out I was done!

 I think I might like this playing stuff, it was kinda fun and boy was daddy and mommy happy!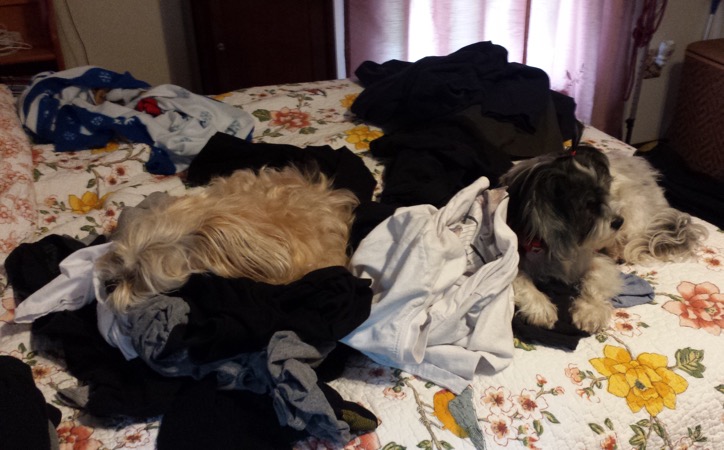 Hope you have Fun playin this weekend too! 
Missy
hey Aunties she Finally Played with me!! I want to Play More!! Hope she does too soon!!

Piper