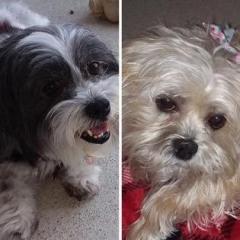 Entry posted by Missysmom ·
437 views
Aunties it was My birthday this weekend and what a fun time I had! I want to share it with you but I gotta get some news outta the way first or it won't make any sense!
well ya know I have a friend and to you her name is Piper but it wasn't to her... nope she just ignored it! Mommy and daddy kept tryin but guess she didn't like the name. I mean she came with it so whoda thunk? Anyway we had to find a new name-- I call her Bozo! she likes it but mommy said we couldn't name her that, it wasn't nice... I dunno what mommys talking bout cut she's a clown and isn't Bozo like the Best clown! It's Not Mean it's Nice, Mommys just strange!

 anyway they tried Lots of names and Finally she answered to.... drum roll please! Molly! So she's Molly now! Ok now that's done on to My Bday!!
we started the day with a nice walk! It was just around here But I got a bday kiss from Bunny! 

When we came back mommy started making my bday cake! Will it Ever get done???!
Finally mommy said we could open my presents! We got ready but geez she's Slooow! Oh and I'm Not leaving my cake so we gotta do em Here, in the kitchen by My cake cookin!

Yay, my gifts!! Oh and looky I get More gifts cuz I gotta have Party favors for my Friend Molly! How fun is That?!!
He he I Conqured my new activity mat! Molly doesn't get puzzles yet so I got All the treats! Not Really.. mommy Helped Molly so she could have some too!

Ugh Back to waitin... why is mommy soooo slow?!!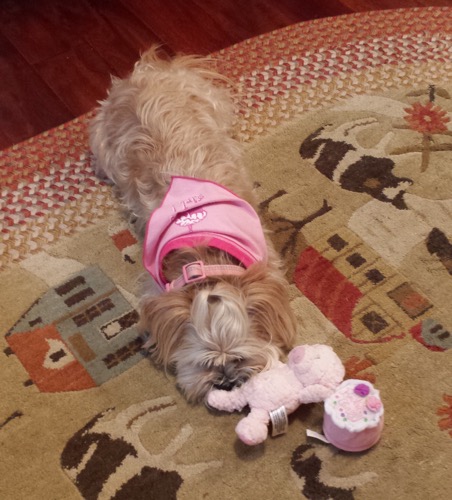 Yay Daddy's grilling now! My faves, steak and tuna! Yum! Me and Molly got to play some but mostly waited for daddy to drop something! Of course he didn't!
Maybe mommy will give us something if we wait in here with her! Geez we're Starving, we're getting Weak from hunger ya know!

Ummm dinner was soooo good, now it's Play time!!

Looky Aunties, My Cake!!
Me and Molly are gonna wait right here for our cake and ice cream!! We're ready to Party!!
Me First!! Oh Boy it's my fave!
Molly can have some now! But mommy said she probably won't eat it cuz it's got carrots in it... but Molly fooled mommy she Loved it!!
Ooh Aunties that was All sooo good! But I want More!!
My day ended waaay too soon... but I'm Beat!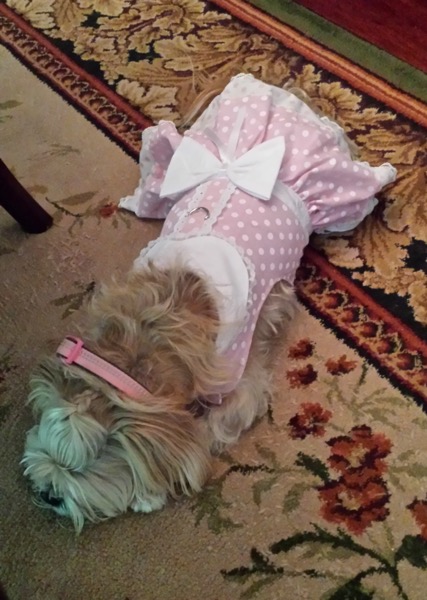 So is Molly! She ain't never been to a bday party, but she had a Great time!
We Both did! And geez look at Molly you can tell she's up to Something! Probably stealing more of my toys!

Hope you all enjoyed my bday as much as I did!
Oooh and it was waaaay too hot for my bday Outting this past week so hopefully we'll do it this week! Then of course there'll be my shopping trip!

 See ya later Aunties! ❤️Missy and Molly too!