Mommys Surgery, Missy's Emergency visit and other stuff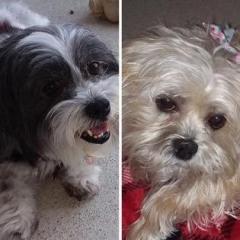 Entry posted by Missysmom ·
308 views
Hi Aunties Missy here! It's been a long time so I gotta catch you up! 
First, ya all know mommy had her eye surgery. me and Molly were scared, mommy and daddy left real early and we had to stay in our boxes for a long time. And when they came home mommy had a pirate patch on her one eye, yup she did. And daddy had to take care of us and it was waaay different. Mommy an me slept on the couch for a few nights..
see mommy wasn't supposed to move her head down in any way, it was hard.. so I told mommy she could use my grooming pillow and it helped her a lot!

 I was real good I was mommys head nurse I taught Molly how to be one too, see!
Molly tried to be good but she wasn't real thrilled with daddy grooming us...
daddy said it was ok he felt the same..!
Then after just a few days after mommys surgery sumptin really bad happened to my tummy and I had mommy up most of the night then she finally got daddy up at midnight and said I had to go to emergency... I was pacing all over and was even scared of mommy, she didn't member but she had her pirate patch on and who wouldn't be scared of that... mommy couldn't go with me to emergency she kinda sorta hurt her eye when she was helping me... she felt real bad she couldn't go but daddy put his foot down and said she had to take care of herself... it was in the wee hours of the morning, 1am, an me an daddy set off for the emergency vet.. and I was real scared but daddy took good care of me and didn't even get mad when I puked in the car- course it was mommys car!

Mommy says it was 1 year and 1 month to the day from the last time I had to go to emergency for my tummy. The dr thought that was odd too... they gave me that shot again and I came home, I still kept mommy up some but was better. I felt sad I couldn't be mommys nurse and she had to be my nurse... my tummy hurt bad Aunties...

Geez daddy took over all mommys nursing... and mine.. mommy says she got a real handsome but very strict male nurse! daddy don't let mama get by with nuthin!

daddy's an ok nurse but I wanted mama and mama helped me but got hurt cuz she wasn't supposed to put her head down or lift me... and now she had to like start over with her eye healin... I feel real bad but I wanted my mama..

 we was real lucky mama didn't hurt her eye worse daddy said... but I wouldn't a let her do that Aunties...she just helped me enough!
Molly was real good bout it all, she took care of mommy while I was gone and even ate all the sick girl food too, she thought chicken and rice was a real nice treat! That's good cuz I had to have it longer than normal this time. And then I started to get better and wanted to play and you won't believe what happened...
We was outside and I thought I heard Lizzie behind this box thingy we have and I got Real excited! Mommy was with me and you know she has that new eye and she saw it wasn't Lizzie at All it was a Snake a Copperhead- Yikes! Mama said snake- hit the deck girls, I did but geez Molly was clueless and just bout got in trouble, yup she did... we had to have a lesson after daddy killed the snake on listening to mama- I dunno why I had to I Know what to do but mama said I had to help train Molly so I did! Hey looky Aunties, this was daddy's 50 copperhead, that's a lot huh?!
So Molly wants to tell ya some stuff now, she learned sumptin else lately....
Aunties theres sooo much to learn and well I just wanna have fun but they keep tellin me not everything is fun... why Aunties? Shouldn't Everything be Fun?? Well this Big thing of water doesn't look Fun at all- mama kept tellin me to stay away... now I guess I Will if she's gonna put this dumb thing on me!
But looksie Aunties this is Real Fun, we got Bambi's here and a baby! Mommy says I'm not supposed to bark at Bambi specially babies but I Do, cuz it's Fun!!
Here they are Aunties! See they're eatin!
Aunties, Missy here.. seriously look what I have to put up with All day...
does she bark at anything serious?? No! Just at Bambi... Mommy says she's finally found her voice (she hardly barked at all before) and she's never seen nuthin like this so we just gotta be patient with her.. gee Bambi is such Old news!

Oooh Aunties before I sign off I gotta tell ya our good news! Mommy got a call and they moved her second eye surgery up to the end of July! She's sooo happy, I dunno why cuz it's by her birthday and it's a Big one this year Aunties, yup the big 60! Mommy says daddy kept askin her what she wanted since it was a big bday and she just never thought she'd get her eye sight for her bday! Silly mommy!! But seriously Aunties this one is Big cuz the dr isn't sure he can even do this eye see it's got damage to it (from an incident long long ago) and mommy is what she says they call legally blind in it... so it will be Huge if she gets to see outta it again, won't that be Grand!! 

Missy & 

Molly