Holiday 3: Cotehele gardens and quay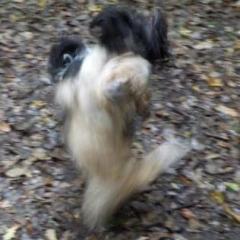 Entry posted by Crinkly ·
308 views
Tara:
My turn!  I can tell you lotsandlots about our adventures and sniffs and EVERYTHING.
We went to this Cotehele place by boring car, with Mum and Dad squeaking about SatNav stuff.  Yawn.  But it was fun when we got there!
There was some sign up saying we had to keep them on leads in the Formal Gardens or something.  But as soon as we got out of sight of everyone we let them off the lead.  I figured Dad couldn't get lost if I woz with him, so he would be safe.
This woz a bit of the garden we couldn't go in.  Not fair!
But then it got better!  Look how high up this mountain we got!
Cato was staying with Mum.  Of course.  But me and Dad did proper explorations.
This is my new bench.  Isn't it high?  Dad lifted me up.  I love my Dad!
This is the green stuff Mum could see when she sat on MY bench
Then we found this
Yawn stuff
the door wot is thousandsandthousandsandthousands of years old.  That is old, isn't it?  Everything in Cornwall is old.  Even older than Cato.
This is Cato peeing.  Hahaha!
Inside the chapel place.  I woz sniffing outside, but Cato likes to stick with Mum.
Then we went alongandalongandalong to see the boat stuff.  This is by the river.
See?  This is the river.
And this is something called the Estate Port Office or something.  Mum did take a pic of the outside, but she wobbled, so it didn't come out.  Haha!
They did the office all old and like the bloke had back in the olden days.  Dad said you had to see the pics of ladies with no knickers, cos that is realistic.  And there were always ladies with no knickers.
And this is the meuseo-museum place.  Mum said I can snooze while you read all the pics, cos it isn't stuff I like.
And then we had a snooze while Mum and Dad had tea and scones and a glutenfree choc brownie and we didn't get any!!

  Not fair!!!