Holiday 4: Cotehele House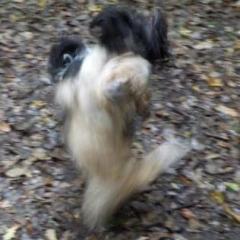 Entry posted by Crinkly ·
257 views
Cato:
Hello Aunties!
Mum says she wants to do this blog bit.  That is OK, isn't it?  I hope you don't mind.  Only we were asleep under a picnic table with Dad when Mum took all these pics, and they are ever so dull.  And un-sniffy.  But it was OK cos we had some of the eggy bit of his quiche, and Tara was allowed a finger lick of icecream!  I didn't want it.
So Mum is going to try and make them interesting for you, and then I will blog the next interesting bit.
Mum:

 well, I hope you enjoy this as much as Dad and I did.  Cotehele is a wonderful place.  Absolutely beautiful, and very very old.
https://www.nationaltrust.org.uk/cotehele/features/a-tudor-house-with-medieval-origins
This is walking towards the gate into the courtyard/quad
and inside the courtyard looking towards the arched chapel window in the corner.  Always good to have a chapel in your home, ready for those rainy days when you can't be bothered to actually step outside to go to church, eh?
This one is looking straight across the quad to the main door into the great hall.
Views of the great hall
All around Cotehele are the most amazing tapestries.  A lot of them made for elsewhere, then brought here.  They are constantly being restored and cared for, since the wool and threads are permanently under stress from light and moths, and so on.  There is a lot of info about the tapestries themselves and the restoration activities available, but it is worth remembering that these things have been hung on the walls of a lived in house for over 500 years - woodsmoke, sun, cigarette smoke, cooking smells, damp, cold, heat... it is incredible that any of them have survived!
This is the chapel.  That metal cogged thing through the far doorway is a clock.
This is an alcove/cupboard off a living room.  Each little arch held a different kind of wine or spirit and the door was kept locked by the butler.
This was a room off a bedroom - where they kept the china!
Most of the bedrooms were in the big square tower you can see in the first picture.
There was a light airy landing, half way up, which had several of these bizarre chairs.  They are Tudor.  Some of the chairs have a strap lying over the seat, to discourage visitors from parking their bums.  Too old and too fragile for a sit down!
This is the main bedroom
Tapestries hung over doors to cut down the drafts.
And in this case, to hide the peephole (see the clover leaf hole?).  This was the main bedroom, and the peephole allowed the occupants to look down into the great hall and see who had arrived.
This was another small room off the main bedroom.  In this case, the window looks down into the chapel.  So you didn't even have to get dressed to attend chapel.
Fire extinguishers were not easy to come by in the 1600s
There were some stunning pieces of furniture.  Incredible.
and some freakily creaky floorboards!
And, as always, I was interested in the kitchens.
No haute cuisine here.  These are very functional, basic rooms for cooking and storing, with a small interior courtyard for outside food prep and laundry drying, away from the eyes of The Family.
Dad wanted to take this chest home with him.
There was another whole room devoted to The Family's actions in wars over the last 2-300 years.  Momentos, guns, letters, documents, etc. but I didn't take any pics.  It was too dark without the flash, and I didn't want the flash to damage anything.
Tara would have loved the stairs (4 floors with lots of little steps up and down) and Cato would have loved the sniffs.  Just think of all those corners and legs of furniture, fireplaces and alcoves!