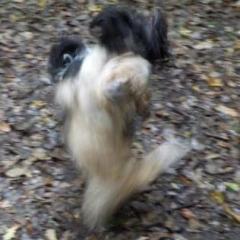 Entry posted by Crinkly ·
256 views
Cato:
It was very exciting.  First we went to an old Cornish slate mine.  Me and Tara were only allowed in the first big cave, and we had to be carried.  Tara got mud all over Dad's jacket.  Haha!  And it was all wet and drippy.  Then Mum and Tara and me had a drink while Dad did the thousandsandthousands of steps down to the other caves and the underground lake.  Wish we could have gone, but there were No Paws down there.

Dad said that the life of a Cornish slate miner was horrible cruel.  He says that they used to take their sons down the pit when they were 12 to train them up, cos by the time the Dad's were 35 they were so crippled with arthritis from the harsh wet mine conditions, that they couldn't work any more, and they needed the son's to earn the living to support them!  That is hard, isn't it?
And then we went to Golitha Falls.  It was ACE!!!
Mum says it isn't really Falls, because Falls are splooshier.  But that didn't matter.  It was amazingly sniffy, and green, and we didn't have to keep Mum and Dad on the lead.  And it was incredible!  It had been raining so everything was soggy and lovely.
The water is all brown because it comes down off Bodmin Moor and has brown peat stuff in it.
We did lotsandlotsandlots of exploring and sniffing.  There was soggy mud and soggy leafmold and sand and tree roots and splashy water and old mossy trees.
And cows.  But they were cowering (pun!) on the other side of the water. 
Interesting carved things
And of course, Tara found mountains EVERYWHERE!
There were two really scary bits though.

  I didn't like them.
One bit was when we all got stuck, and Dad had to jump across a bit of fast splashy water.  And then Mum picked up Tara, and I saw Mum pass her over the scary water to Dad.  And I got into a bit of a tizz, cos I knew that was going to happen to me too.  And I ran about a bit, cos I couldn't think and I was afraid.  And I wouldn't come to Mum which was terrible.  But I couldn't.  And Dad was a bit cross.  And Tara jumped back over to see what was going on.  But I still couldn't stand still and it was awful.
But then Mum said it would be OK, and we could walk back up and go around, until we didn't have to go over water.
And that was much better.  I love Mum.  Tara came with us, cos she just likes scrambling everywhere, and Dad was left on his own.  And I didn't like that either!
Then the next scary bit was here.  Dad and Tara climbed up the mountain, but I couldn't.  It was vertical steep and very high.  Mum wanted to pick me up to help, but that was awful, and I panicked a bit again.  So she found another way we could go around, and it was OK.
I know I am not very brave, but I did try.  It was just a bit too much.  And Mum understands.  I did want to come to her, but I couldn't cos of all the panic in my tummy.  I love Mum.  Dad said he thought I was being silly, but I couldn't help it.  And it was so scary that I had nightmares that night.  I howled and was afraid, but Mum was there and she stroked me, and she made it better.
This is the way we took going around.  
And this.
And this is Tara on a mountain by the side of the path.
Dad found this mountain for her too, but then she hopped off it before Mum could take a pic.
And before we got in the car Mum had to wash her feet in the water, cos of all the peat and mud and stuff that had squidged into her sandals.  That was funny!  She had to stand in the water with her skirt up by her knees, swishing her foots around.
On the way home we stopped at St Doniert's Stone
https://en.wikipedia.org/wiki/King_Doniert's_Stone
we didn't go into the tunnel though.  Mum said that we had had enough for one day.
And then we went and had a pub lunch.  It was very very nice, Mum said.   And we had some burger too!