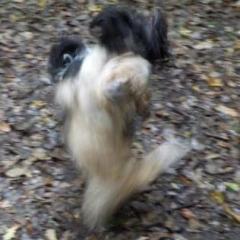 Entry posted by Crinkly ·
284 views
Tara:
So we got home and it woz nice to be back with Home Sniffs, but the BEST bit is that I learneded how to climb stairs!
Aren't I clever?
The day after we got home I followed Mum up the stairs.  Our stairs are different from the holiday stairs.  They were wood and brown and slippy and really steep!  Our home stairs are soft and carpety and narrower, but still steep.  So I was really brilliant of me to know about holiday stairs and then go up the home stairs, wozn't it?
So now I can go up and sit on the Big Bed if I like!  All by myself!!!  Without Cato.  He waits at the bottom and is all wimpy and not brave enough to follow me.
But there is one weird thing.
They change.
They are all nice and interesting and mountainy when I go up them.  It is exciting and I am clever.
But then when I get to the top and I have had a sniff around, when I go to the top of the stairs to come back down... well they change.  They get all steep and a bit dangerous-like and I don't want to go down them by myself.  So I have to sit up there until Mum or Dad come and fetch me.  I can climb down when they are with me, but I can't do it by myself.  Cos of the steep dangerosity.
Oh, and it is funny.  Sometimes I can't climb them.  There is this thing that has appeared at the bottom of the stairs.  It is white and metal and barred.  And sometimes it is open, and I can go up and come down again with Mum, but sometimes is it closed!  And then I can't get up. (Mum: that'll be the child stair gate then

 )
But I am really clever, aren't I?  Learninging how to climb the stairs.  It is really good fun!
3

2