More pics from the lost camera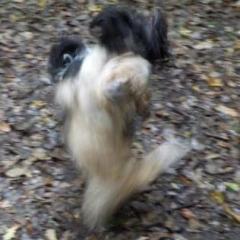 Entry posted by Crinkly ·
267 views
Cato:
This was in Foxy Park again.  With Tara being a pain again.  See, my tummy is furry, NOT fat!!!
Mum says this year they have let the grass and wildflowers grow up properly, so they all grew and flowered and seeded and stuff.  She likes this.  But then she doesn't get seeds in her knickers, does she?  Last year the man cut the wildflowers down, and Mum and AuntieJane got cross about it, cos the buzzy bugs had nowhere to go.
This is baby Rowan berries.  They will be bright red later.
More Ninjaing.
The view in High Summer
The Hosta
The rose wot Mum loves.
And then we went again with Dad, a few days later, so you get to see the tall grass again.
And us running about, again.
And the Buddleia again.
And these Marigold things.  They sniff funny.
Oh, and this bit has been mowed.  But Mum doesn't mind about that.