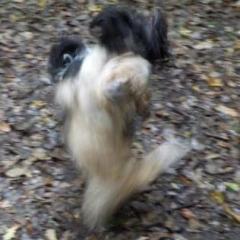 Entry posted by Crinkly ·
306 views
Cato:
Aunties i am worried.
i heard Mum and Dad talking about it.  They said the we are due those horrible stinky flea drops

and then they said they would wait til after our Spa Day!  Not today.  And not when we wake up. But the one after that.
isn't that AWFUL?
there will be Mum going away.  And horrible wet stuff bath stinky bubbles.  And hot blowy noisy air stuff.  And those horrible buzzy bitey clippy things.

Tara doen't know.  Cos she was chewing a pigs ear.  Not that she listens even if she isn't chewing a pigs ear.  But i know, and i am a bit worried.