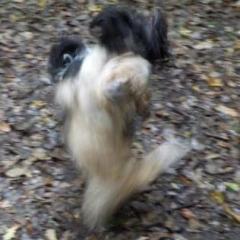 Entry posted by Crinkly ·
280 views
Tara:
you know how clever I am?  I mean I am clever all the time.  But i am extra specially clever climbing stairs.  And this morning Mum helped me down off the Big Bed and we went downstairs for out widdles.  Of course Cato has to be carried down cos he isn't stair-clever.
so then we came in again and boring Cato just got into his crate bed to sleep.  He sleeps all morning if you let him.  And Mum did her boring drink making and computer sitting.  Yawn!
but - remember i am so clever - i went for a sniff patrol, just to see wot had happened over night.  In the garden and the front room.  All over.  Anyway, i found the stairs!  And that horrid gate thing was open!
so OBVIOUSLY i had to show how clever i am and go and see Dad. He was still on the Big Bed all snortley and snuffley and snuggly.  And i went up and woke him up cos he was missing all the lovely morning sniffs and widdles and clevernesses.
and he was sooooo pleased to see me climb on his middle that he said a Rude Word!  But then Mum came and got me and we had to go downstairs again

 and the horrid gate clanged shut

 and Dad went back to snortleing

  Sometimes Mum is such a spoilsport!
1

1