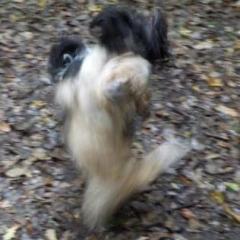 Entry posted by Crinkly ·
219 views
Tara:
Me again!
Cato says he needs a whole blog to himself to tell you all the boring stuff about his Special VetDoctor stuff wot I didn't go to, and they won't tell me all about cos it is so dull i just fall asleep.
Anyway, cos he's going to be hogging the blogging talking all about him, i can squeezify in first and tell you about my ticklish foots.
No pics again.  Even though Mum says my foots are Perfick and pink and black and fluffy white and she wants to kiss my paw pads cos they are so cute.  Cato's paw pads are boring black, so that is less cute, isn't it?
Well, i like it more now Mum agrees that my back foots are ticklish.  I've been telling her this FOR EVER!!! But now she believes me.  And my brushing is nicer.  I don't mind her doing my front foots.  That is nice.  I lie on my back and she does my chin and chest and tummy and bikini, and armpits and front foots.  I love it.  But then when she goes down my back legses and the tickle stuff starts i have to squiggle and squirm and i curl up like a hedgepiggy and lick and lick and it TICKLES!!!
Only now it is better.  Cos Mum believes me now, and she is less tickly and does it faster, and lets me lickandlickandlick until it stops the TICKLING and she does my tail, and then my chest and tummy again, cos that is the best bit.
But i still don't like the buzzy thing on my toeses when Mum is cutting my foots fur!
2

3