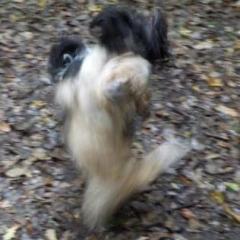 Entry posted by Crinkly ·
361 views
Cato:
Hello Aunties!  Now that Tara has stopped fussing about her feet, I can tell you about my visit to my new VetDoctor.  Mum says he is called MrMcT which is short for him being a McTimoney somethingorother.
He was nice.
Tara didn't come in with me!  Yay!  So she wasn't squeaking and getting in the way and wanting fuss, and I had Mr MrMcT all to myself.  He got down on the floor to see me, which I liked, so I didn't have to stand on that horrible high vet table.
He did stuff to me, and stroked me and rubbed me and lifted my leg and did proddy stuff on my feet and everything.  I didn't mind.  Even when he made by back-leg go crunch, and feel funny for a bit.
Mum said cos I was sore I didn't have to go for a walk, but I hope I don't miss any more!
Mum: in case that made no sense whatsoever, I have written about Cato's McTimoney treatment here, in a slightly more coherent and human way.  
:
1

1