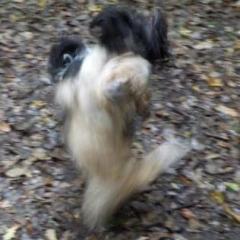 Entry posted by Crinkly ·
299 views
Tara:
Hello Aunties!
We had a FAB walk yesterday.  We only went out to do an Autumn Photo Shoot for me, so I can be a Supermodel again, and look fab.  Mum did my hair up in a new style and everything.
Cato larffed at me and said that Carrera rocks this look much better than me.  But he is just jealous.  Cato I mean, not Carrera.  
Can you see my hair?
This is when we were catching up with Mum.  Cato was doing a silly walk at the time, and worrying Mum in case his wonky leg was wonky again.  But it turned out he had a prickle in his knickers.  So Mum took it out and he un-wonked.
Boring berries.  Mum pretends they are interesting and (you have to imagine Mum's posh gardening voice) indicative of a harsh winter to come.  Woteva that means.
This is that big tree of AuntieAngel's
Cos we love her.  And we love Donte too.  And he is in the hospital at the moment and we are all worried about him. Very worried.
This is our usual pic of the trees changing colour, but it isn't from the right place.  There woz someone sitting on our bench so we had to take the pic from a different place.
This is me beating up Cato.  He needs lots of practice being beaten up, cos of his wonky leg.  He is all out of condition and needs training and stuff.  I know all this cos of my athletical Ninja Balletic Piratical experience.  But he doesn't do wot I tell him, so then I have to beat him up some more.
This is me sniffing.  In the Autumn sun.  Only I am not on a bench at the moment.
Cato is playing Truffle Hound 
And this is me on the bench with my Antenner, like Carreras.  Only I have one Antyenner, and two bows.  Aren't I clever?
Mum says she is disappointed that the green bench is reflecting the blue sky, so there isn't enuff contrast between my bows and the bench.  And she is sorry that the sun went in too.
But I think I look FAB!!!  You can even see my black beauty spot on my left hand-paw, and my nice beardstains from my dinner.  I look great don't I Aunties? 
Anyway.  Mum said I could have my Special Hair as a Special Day, cos it needed cutting and it could look Magnificent for one day.  And then when we came home she chopped it all off!  I now have a tiny little stumpy stump sprout.  Like back in the days when I woz growing it.  Mum says that she might have taken a wee bit too much off, but that it will grow.

Can I come and live you @Carrera? Cos your Mum knows how to let a girl have decent hairstyles.  My stump looks AWFUL now.