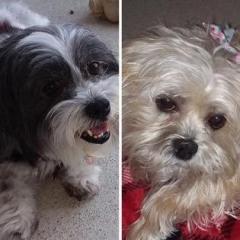 Entry posted by Missysmom ·
339 views
Hi Aunties, it's been forever since Mommys let us post, me and Molly been wanting to tell you bout our move but mommys always busy... we just Made her do it today! 
see, it's a looong story Aunties so hang on or just skip to our pics if ya wanna! But see mommy and daddy took us to see this house and we was gonna buy it.. well we tried to but these people just got harder and harder for mommy and daddy to work with and then mommy just lost it one day... yup she did she said enough was enough... and soooo we didn't buy that house... daddy said they just liked their house too much and didn't wanna move... Anyway our house had already sold so mommy and daddy had to move FAST to get us a new one.. we had less than 2 weeks— we was almost homeless Aunties! But mommy and daddy came through and found us another house, we like it Lots better too! 

anyway me and Molly and mommy we was the 'lead party' coming to the house, daddy stayed where there was a 'real' bed an us girls had a slumber party! We all had sleeping bags but me and Molly we liked to steal mommys bed better! We had Lots of fun!! 
We play Lots here, lots more than the old house, we're running an playin all the time!!
I been helpin mommy unpack a lot!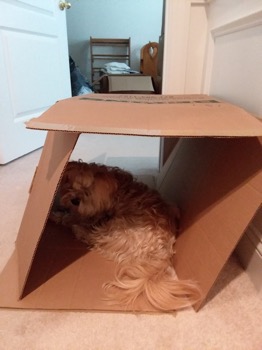 and me an Molly got lots of nice places in the sun to lay or look out!!
An Look Aunties we got one of them gate thingys here, mommy and daddy like it but we're not so sure...
mommy says excuse all the mess, we been here a few weeks now and we still got Lots of unpacking to do... we even got one of them POD thingys out front with More stuff to unload and put somewhere... do you know what a POD thingy is Aunties??? We didn't either but look... there it is, see the big rollup door?!!
But better than that Aunties Look at our new grooming room, I can look out an everything!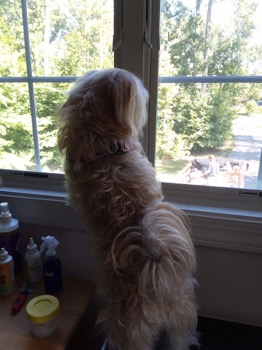 oooh an best yet Aunties mommy and daddy had something built for us last week, yup they did! See we didn't have a fence here so we couldn't go out an run and play... nope mommy took us on lots of walks each day— like 5 or 6 but that's not as much fun... oh yeah... me and Molly we both lost lots of weight.. but mommy said she found it all!

 anyway... looksee Aunties we have a fence now!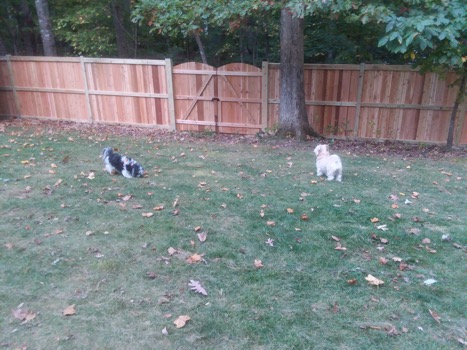 ok well that's it for now Aunties mommy says she's gotta get back on her head... whatever that means?! Hope we get to come back soon, we miss you all! 
Missy & 

Molly