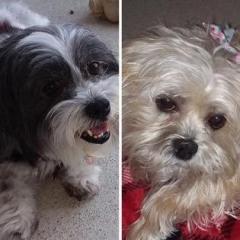 Entry posted by Missysmom ·
199 views
Hi Aunties,
i just had to come on and let you know we Finally got a bath and haircut!! I'm not gonna say how long it's been but it was a LOOOOONG time, with the move and all! Mommy said she figured out how to make us not complain bout baths! But boy did mom Complain, it took her All day to do us both, our hair was Long!! 
I just wanted to sleep after cuz I felt sooo good!
Whatcha think Aunties?! I look pretty much the same huh? But she took Lots off!

Hey Aunties, Molly here! Look see what I got! A robe!! And daddy put Me on a pillow after my bath and I felt just like a Princess! Missy was jealous!!

and Look, mommy redid my tail and I like it Lots better! All my hair grew back Really thick, I was Real glad to get it cut!!
then me and Missy went and chased the squirrels, here's my 'action' shot!! We Almost got em too!!
Ok well... Missy wants to tell ya bout her 'drama' today..
Aunties, Molly don't take this serious but it IS! See... every Sunday now Daddy takes us to our favorite cafe for breakfast, after Church... well, we don't go to Church, but you know what I Mean! Anyway today all these people were pawin all over us... well Not Molly she hid under the table and daddy's legs.. but Me yep they was All over me... One lady even took pictures, I mean that's just tooo Much! And so I Barked, and Barked and daddy said it had got too Much! I agree it's like Puparratzii all Over us! We can't even eat our breakfast in peace! Soooo we ain't goin No more! Nope mommy says they'll just bring it home to us and we can eat in peace! Then we can go durin the week when not so many people are there and she won't let them come near us No More! See Molly'll figure out it's Serious! See.. it Really stressed me out! I Knowd you'd understand Aunties!
 Missy
Aunties, I told ya it was just 'drama', I don't care where I eat, I just wanna Eat!! 

Molly