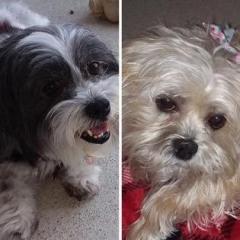 Entry posted by Missysmom ·
200 views
Aunties,
Mommy's sooo far behind she hasn't shared our pics with you! We went to have Real pictures taken right before we moved, mommy wanted to be sure we got our yearly picture done with a Real photographer even though we was real busy movin an all! But it took her Forever to get them scanned in to share with you... sorry .... but here they are, hope you like them!
Missy- I have a Poodle dress on! But we didn't have our regular picture man so you can't see the poodle part!  
Molly- this is mommys Favorite, she says it shows my personality!! She also says you may see it Again!  I ain't supposed to tell ya that so be surprised if you do!