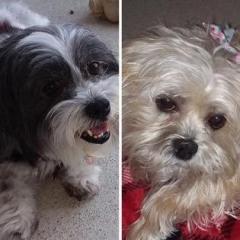 Entry posted by Missysmom ·
194 views
Hi Aunties, Missy here!! Yup it's me that's gone an done it!!

 what's I done?? Wellllll after years an years an Years of havin my hair pulled and pullin back at me I had mommy cut off my topknot! Yup I Did!! Daddy even Finally said yes do it!! 

 ooooh an Aunties it feels sooooo much better! An it don't get in my food no more, looksee!
Here's I am chewin my pizzle treat, No hair in my eyes and mouth!!
you can't see my new doo too good though can you? Here mommy got a Much better pic this morning!

hope you like my new doo as much as me! Ooh an now I can get ready for breakfast in like half the time!! I think I might have mommy cut All my hair short next time!!
 Missy
Aunties, Molly here! Ya know she just did it so I can't bite and pull her head hair no more! It's Ok, I still get them ears! 
hey Aunties did mommy ever show you these neat things she got to hold our pizzles? I loves it!! Looksee, I shows ya! 

Molly