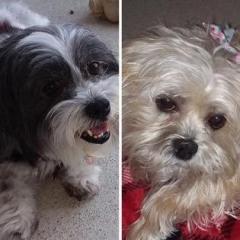 Entry posted by Missysmom ·
234 views
Aunties Missy here, 
did you hear the news??
i'm Soooo bummed... the Groundhog Phil (who's now officially a Rodent to me) saw his shadow.... 6 More weeks of Winter...

Molly here Aunties!
Missy's silly! i Loooove Winter!
Ole Phil is my Hero! I just declared today a Holiday!! I'm gonna have mommy make me some popcorn to celebrate More Winter! 


Molly
I'm just gonna curl up here by the fire all day... it's Coooold out there! you all enjoy your ole Winter!
Missy