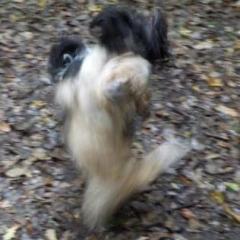 Entry posted by Crinkly ·
184 views
Tara:
We took Mum and Dad out for breakfast!  To our paw place that does proper food for us.
look!  This is our scrambled eggses.
Mum kept our bowls up on the table for AGES while she took pics cos she said our eggses were too hot hot hot.  It was awful having to wait.
Mum squished them about in the bowl to make the cool down faster cos she said my whining was embarrassing.  Haha!  I was HUNGRY!!!
we got a WHOLE egg each!  Yum!!!
we want to go there again today too!
Cato says that eggses is better than boring fish and rice or the bonescuits they do.  Or even cheese.  But I like the Pupcakes best!