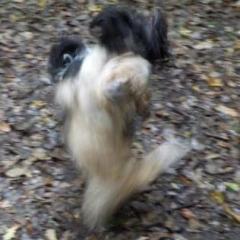 Entry posted by Crinkly ·
281 views
Cato:
Hello Aunties!  We had an exciting visitor today!
We was walking over to see Auntie Jane this morning,  when this strange scruffy paw came over to say hello. He looked like he hadn't had a b*th or a brush in AGES!  He was wandering about the street without having a human on a lead!  He was waggy and sniffy.  And his tail woz nice and friendly.
Mum said he looked like he needed some help.  So she took my lead off, and put it on him, and he and Tara walked the rest of the way to Auntie Jane's, and Mum carried me.  I liked that.
When we got to Auntie's me and Tara had to stay there without Mum, while she and the strange paw went out looking for his Home.  But they didn't find it.  All the paw wanted to do was sniff and widdle.  So we all went home.  And then Mum did lots of computer stuff, and facebooky stuff and phone stuff, while Strange Paw stayed in our house, and ate our food and drank our water, and explored MY garden and widdled everywhere.  Mum rang the council and tried rescue places and vets, but they were all shut cos it was Bank Hol Weekend.  Wotever that is!
He widdled in places that I wouldn't DARE to widdle in!  Over and over again.  He had lots of widdle.
He had bald bits on his stumpy tail, his ears, his flanks and the top of his nose.   He was blind in one eye.  He might have been deaf too.  He certainly didn't know when Mum was talking to him.  He had a dirty bottom too.   And his fur was all sticky up and clumpy.  Mum said he really needed a b*th, but she didn't want to make him had a heart attack or anything.
Then we waited and waited for his Mum or Dad to ring our Mum.  And they didn't.

But in the meantime, we decided to call Strange Paw Fred.  He didn't mind.  And then Fred found one of my bones!  He has very good teeth!  And then he found one of my pigs ears.  And he ate it ALL really quickly (good teeth!  Very chompy!) and then he was a bit sick.  And then he ate his sick.  And then he rolled in the sicky bit!   And then he got up onto the sofa when Mum was distractified!  And his farts were amazing!  They were sooooo stinky they filled the house!
Fred is my HERO!
Mum spent a lot of time cleaning up after Fred's leg cocking inside the house!!!  And his vomit cos he pigged my pigs ear too fast.  I could have told him not to do that.  Pigs ears are best eaten slowly.
Mum said we had to make allowances cos he wasn't brought up like us.
I wish we had been brought up to galumph our food, roll in our sick and widdle everywhere!  It was ACE.  Even Tara forgot to be scared of him and started following him around being all impressed and waggy.
Dad took him for another walk too.  It was too hot for us, but they walked so far that Mum took the car to pick them up!  But they didn't find Fred's home

  we could all tell that he wanted to go home.

anyway, in the end Mum and Dad took Fred to stay somewhere else, cos he couldn't stay with us any longer.  Mum says she thinks he lives in a kennel at his home, cos of his scruffiness and the widdling everywhere, and cos he didn't like being inside.  But he knew about begging for food, and walking on the lead.  And riding in cars.  He is going to be in a kennel and have farty food, and have the Dog Warden check him for his microchip, and go home.  Hopefully.
I wish he could have stayed.  He is my hero!
1

1