I am 5!!! (Cato's Birthday 13th May)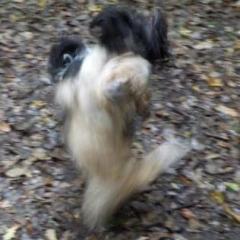 Entry posted by Crinkly ·
155 views
Cato:
Mum says that it is my Special Once-In-A-Lifetime 5th Birthday Today.  And that I am a Little Hero.
I love my Mum.
This is me and Dad on my Special Birthday Dawn
And this is Me and Tara on our Special Birthday Lie In
Then Dad woke me up with my prezzie.  It is a NEW Angry Bird toy, and I chewed it and sucked it and humped the duvet with it in my mouth.  It was a lovely way to be woken up! 
I love Dad.
We went out to our Special Waggy Tails sausage place and had scrambled eggs and a snooze on their blankets. 
I love Waggy Tails.
AND we had a nice walk to the sea and back.  Mum says that light was bad, but maybe there will be some sunny pics later when we repot the strawberries in the garden.  I have to do supervision stuff, if we do.  She says it would be nice to have some pics of Tara too, cos this is her last day with those silly piggy tails.  They get CHOPPED OFF tomorrow!  Haha!
I love it that Tara is going to be bald, and will be mistaken for a boy again!
Haha!
We are going to have a special Birthday Dinner, but Mum won't tell me wot it is.  She says that Birthday Dinners should be a surprise.
I love surprises.