Pi& Abby:
Mom got a big box this morning and we just couldn't wait till she opened it. We sniffed and sniffed but couldn't guess what's inside..Pip thinks it's a big box of toys and treats..Silly Pip it's got to be new beds...yeah, yeah that's it, beds. I heard mom say there more to come for it so that means maybe comfy pillows right?
Mom opened it and out came this big dog bowl.......but mom I ask, how much do you think we can eat a day? Pip what you think it is? He sniffs as he circles the dog bowl and guesses maybe a boat...we going on a cruise he exclaims....Mom and us are going to sail us to America to see Auntie Roxanne...Yippee....Silly Pip, we all can't fit in that thing.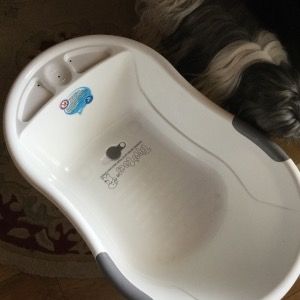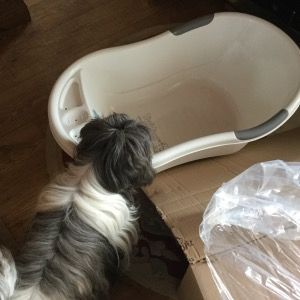 Hey Pip! Come look it's got a plug in it...that means it holds water. I got it! It's a new water bowl!
Are  you sure Abby? Even I can't  drink that much water? Get inside and tell me what you see
Maybe your right Pip, it's got little holes up front here in the front...maybe moms going to put up the sails there.
Hey silly...your facing the wrong way if we're going sailing ..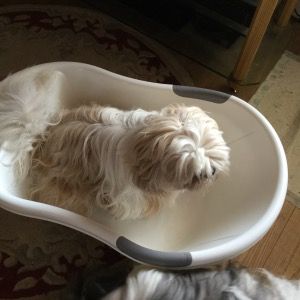 Steady on Abby, I have to check out the new ship from every angle you know...Sailing is very serious work you know  
MOM:
So first of the shipment arrived this morning....they certainly don't have a clue what it is or what it will be used for.....YET  
The size is perfect for either one and depth is perfect....it has compartments for assessories like face wash within easy reach...very happy I've found this....
Once the cradle comes to hold the bath I'm wondering what they will think next....stay tuned.