Been a little quiet but still around...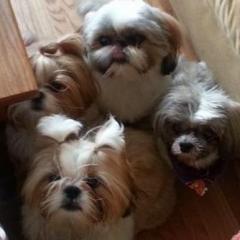 Entry posted by Sunlite ·
386 views
I am happy to report that Dean has been healing just fine but what a very stressful few weeks this has been...
It all started the Friday night before Dean's surgery. Accidents are just dumb, and boy did I have a doozy. I tripped late Friday night going into my bathroom and WHACK! went straight down. My jaw is still not right but I split my chin (which has healed) and I had a baseball (now its golf ball sized) lump on my right knee. Never mind that I couldn't cough or sneeze, due to the bruising of my boobs/chest!
I had to be strong, cause Dean needed me and I did all I had to. His surgery went very well on that Monday and Tuesday, I brought him home. On Thursday 6/29...Dean had a visiting nurse come to check his drainage tubes. I had sequestered the Tzu Crew to a room and gated it so she could do her job without being assaulted for attention. I'm not sure but I believe that with all the commotion of protest, Decker at that time injured himself, but we don't know where...spine/hip/leg?
Didn't think much of it, but he wouldn't jump up on the couch that night but thats not that odd. Friday, he wouldn't do stairs or jump up on anything at all. When I touched him all over, he just enjoyed it and didn't show any signs of pain or discomfort. Then, Sunday he stopped eating. Monday am, 1st thing I tried calling the vets but all local vets here were closed for the 4th holiday, so I had to wait for Wednesday...which we got in that morning. My Vet examined him very well, and again, no signs of anything bothering him... He gave me some pain meds and told me to keep an eye on him and call him in a couple of days. By Monday, we were back in another thorough exam and they drew blood to do a complete work up...all came back normal. Not sure what was going on or what happened but I am happy to report as of today, he's 90% back to normal. He's finally done stairs a few times and attempting to jump up on the couch. He still shys away from aggressive playing but he's at least showing interest again.
Now, Emma... my old lady turned 15 last month. 2 weeks ago, Dean let them out to potty about 9:30pm and she came back walking sideways unable to put any weight on her back leg...and constant groaning. We brought her in and put her in her doggie bed where she continued to groan and cry. 20 mins later, we were at the emergency vet. We were there from 10:15 till about 2am. They took her back, gave her something for pain (more about that in a min) and xrayed her wrong (front) leg and her right leg. They thought for sure she tore a tendon, which would require surgery, but at her age she was not a good candidate for it. Finally after all those hours we got our bill...
Walk in the door $110
x-ray $229
pretty pink ace bandage to wrap her leg $50
Shot for pain $30
meds $32
Total bill $451
I kid you not! Needless to say I was speechless. Now this pain shot...it more just immobilized her so when we took her home all she could do was barely pick her head up and her eyes were just open...she couldn't blink and the moaning and groaning were even worse. I was livid at that place and crying that Emma had no relief whatsoever! We sat up with her for about an hr about 3ish, and I said to Dean, you have to be up in an hr, you need to lay down. I left the lights and TV on for her and we went up. When he came down an hr later there was still no change.
I got up and went down about 6:30 and Emma was not in her bed. She was hobbling around, due to the wrapped leg, like nothing happened. She ate her breakfast, pottyied  and went to lay down. Took her to my Vet 2 days later for a bandage change and brought her xray. He didn't see anything wrong with her. He still wrapped her leg and said we'll wait to see in 10 days to see how she is.
Add to all of the above, the board going down, Jame's wife passing and not being able to reach him, and having to change hosting!
Then stupid me gave the Tzu Crew some of my dinner Sat night, beef and wheat berries, and they all had diarrhea for me Sunday and part of Monday!
Stress? There's not enough wine in the world to relieve all this!