Cato, harness and tail (shhh! don't tell him I blogged this!)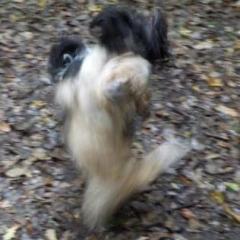 Entry posted by Crinkly ·
175 views
Mum:
You can see from these the relative positions of tail and lead, and how because his back is shorter, I need to move the D ring forward a bit.
Also, the tail trim... ?  I wouldn't mind, but the tail can't really be cut any shorter, and it is STILL touching the leash and making him flinch and look over his shoulder!
This last shot shows it best, I think.
They are both wearing the XXS top piece (that is the purple or red section of the harness).  Then he has a bigger chest piece because of the depth of his chest, and her straps are let out more, because she is generally longer/ bigger.  You can see how his harness is slightly off centre, due to the fact the D ring is lower on his back.  I think that will happen less when I have moved its postion.
She has a gap of 8-9 inches between the D ring on her back and the base of the tail, while he only has a gap of 6 inches or less.
Oh, and every time I look at that massacred tail I itch to tidy it up with the scissors.  I will tidy it up, honest!