Thornton Abbey with the Pack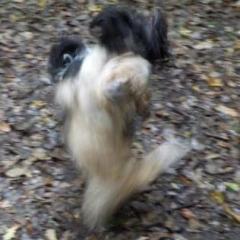 Entry posted by Crinkly ·
194 views
Tara:
Both Mum and Dad were off Work Stuffing today!  So we did a Pack Walk!  I LOVE Pack Walks!  It woz ACE!!!
We went to a sniffy place called Thornton Abbey where Henry VIII visited and decided stuff.  Whether it got knocked down, or not.  It didn't get knocked down.  Mum says.  But then someone else knocked it down later. 
And I mountained and explored.  Even Cato enjoyed it.
We had to be carried through the Cow Field to get there.  The ticket lady said the cows had baby cows and packs of huge great hunting paws were not allowed cos they would frighten the Cow Mums and stress the Cow Babies.  So I let Dad carry me for ages.  I only whined a bit.  On account of me being a fantabulous Cow Hunter.  They must have been REALLY scared of me!
These are pics of me mountaining and exploring on the Abbey.
This is the base of a big pillar thing that used to be here.  It is very low.  Not worth climbing at all!
Haha!  Cato was wading through the long grass, cos his legs are so short!
This is me with my Dad.
There were big fat sheepies too, but I wasn't allowed to Hunt them, either.

This is me on a wall
And here are some boring pics about something called The Chapter House
And this is the farm over the fence. 
Look! Some step-mountains for me to climb!  Cato even followed me.
See? Cato can do steps when he wants!  I don't use steps much.  I prefer to climb down precipitous cliff faces.
Cato says this is a good spot for a Mole Hunt.  If Karel would like to come with us next time!
This mole is silly.  It has got inside these stone walls and now it is digging in circles and can't get out.  Haha!
I wanted to explore down here, but Mum said no.  Something about deep holes and getting stuck.  I wouldn't have got stuck!  I would have let Cato go first so if he got stuck I would have gone a different way.  I am clever like that!
This is me on the Cloister wall mountain.  With my Dad.
Me on the other wall.
Me lying down on the other wall.
This is a tunnel place where people used to sit.  Mum found an birds nest in there.  No birds.  Or I would have Hunted them!
We played Truffle Hound while Mum and Dad has sit down time
And then we went back to the big humungous Gatehouse bit.
Cato was tired by then on account of being a short-arse and having to hop about in the long grass.  But he didn't whinge about his back AT ALL.  I don't think there is anything wrong with him.  He only goes all wimpy when he doesn't want to do something. He liked hopping round the Abbey, so he did.  I think he just needs to be Bounced on properly, so that he understands how much fun it is.  He would feel better then!