Holiday 5: Lanhydrock (aka cow poo day)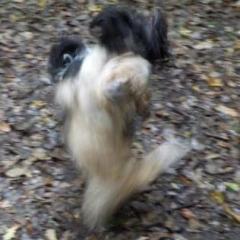 Entry posted by Crinkly ·
289 views
Cato:
Hello Aunties.  Today I am blogging about some great big human den called Lanhydrock.  It was enormous.  And I was a bit tired.  We did a lotlotlot of walking on holiday, and I was worn out by this time.  I mean, I do love sniffing, but all this hot walking and sun and new places and Tara bouncing is very tiring.
Mum says that Lanhydrock is so humungously enormous that it has its own park, with cows and sheep that poo all over the place.  There was horse poo too, I am sure of it, but Mum doesn't believe me.  And deer.  I could definitely sniff deer.  This is Dad and me and Tara trekking in the hotness through the park.
And this is more park.  There was poo everywhere.  It was very sniffy.  And Tara wanted to eat it.  Well, I did too, but Mum says we shouldn't talk about eating poo.  Dad doesn't mind though.  He says we (paws) are all loggical and need to know our enemy.  And he is right!  But Mum doesn't understand.
This used to be a tree.  Tara had to climb it, of course.
And this is the first sight we had of Lanhydrok gatehouse.
Mum found this pic of the whole place, so you would see how eenorrmous it is.  And that is just the front!  It went on and on and on round the back too.
This is boring National Trust stuff, if you want to know more about it. https://www.nationaltrust.org.uk/lanhydrock
These are more bits that we saw.  
And then Mum found a table and had a cup of tea, and we had a snooze underneath it.  Dad went round the house. I think Tara was bored, cos she hunted ants, and cuteified at people (she was wearing her rainbow bows), but I just slept.  On account of being tired.  And even the ants didn't keep me awake.
Then Dad came back and Mum went round the house.  Dad took us for a walk in the park (more poo!) and then had an icecream.  I don't like icecream, but I had lots of water, and another snooze before Mum came back.
This is the stuff she was doing when she was away.
Mum:
The entrance hall
The dining room
The kitchens.
See the amazing way they had to open the windows (the house is very modern, in comparison with most big stately homes, so they had a lot of fancy mod cons that you might not expect)
The kitchen range
Various other kitchen related rooms - staff dining area, dairy, scullery, bread ovens, etc.
And this is the bell system for summoning servants
Then the route took us into the Family's living and working areas.
The estate office
The billiard room including an incredible fireplace!
Someone's private ManCave
A glimpse at the family ancestry
The nursery suite, including the nurse's bed and the nursery bathroom and schoolroom
Fire and safety rules
An entire room just for the processing and cleaning of chamber pots!!!
The servant's quarters (a typical room)
sorry about the blurred focus here.  A couple of young ladies kept trying to get in the way!  This is an entire room for the Family's various pieces of luggage for when they went to stay with friends or went up to London.
Then we went down one flight of stairs to the main rooms.  
This was the Master suite for Him
And for Her
Her private sitting room
This was a main living area/drawing room
Some familiar tapestries that FAR predate this part of the house
Ceilings
And now this is the older part of the house.  I will let the photographs explain the ceiling.  Incredible, isn't it?
All in all, I think we only saw about half the house.  Yup.  There were just as many rooms left that we didn't see.  
And then back outside and round through the formal gardens towards the church.
this is what happens if you get a bit too enthusiastic trimming your topiary!
This is the back door from the second story, which goes over that stone 'bridge' and gives a shortcut to the church.
These pics are the back of the house.  The ground rose sharply behind the house, and there was a walkway level with the roofline.  You can see how rambling it is, and how the front facing part of the building is just part of it.  The action really happened in the kitchens and servants areas at the back.
Can you see Dad?  He is seated at a table near the far wall, just to the left of the icecream stall.
Cato was ever so pleased to see me.  He hates it when the pack splits up.
(and yes, he got a lift from Dad on the way back up the hill to the car.  It was a very hot day, even though it was quite overcast.  And Cato really was tired)