My Important Duties as Patroller and Organiser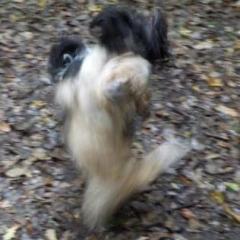 Entry posted by Crinkly ·
200 views
Hello Aunties,
Just thought I would let you know about my important daily duties that I do daily for the pack and around the house.
They are very important.  Did I tell you that?  Cos they are.
This is what I do:
morning Garden Patrol, including side passage and rear gate.  Poo.  Wee.
collecting post, parcels and leaflets.  I don't actually collect them.  I Alert Mum and then we go and collect the stuff together from the porch.
Important Snooze before breakfast
reminding Mum that it is breakfast time.
reminding her again
Mid morning Garden Patrol and widdle
reminding Mum that it is time for our Walk
Sniffing at the Peemail Posts, gate posts, green stuff and car tyres till we get to the park
Showing Mum the route, making sure she stays on track.  Recently she started straying off the path cos of mud puddles, but I don't like it when she doesn't stay safe.  Poo.
Afternoon Patrol in garden, especially if Her Nextdoor is hanging out washing
Important Snooze to recover from walk
Waiting for Mum to finish work
Garden Patrol and widdle
Important Snooze on Mum's lap while dinner cooks
Reminding Mum it is Dinner Time
Supervising serving Dinner
Eating Dinner
After dinner widdle
Important Snooze on Mum's lap
Python wrestling, No-Fetch, Tug'o'War, Bone Chewing
Reminding Mum to brush me
Late night Garden Patrol, including side passage and back gate.  Wee.
Bedtime.
Fighting Tara on Big Bed til I get the pig's ear
Important All Night Snooze
It is very hard work!  I take my duties very seriously.  Mum needs lots of help and supervision, ALL DAY!
1

2