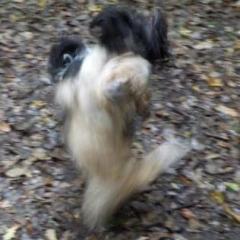 Entry posted by Crinkly ·
243 views
Mum:
Well, today has been a revelation!
We had our Chiropractic Appt this evening, then the whole Pack repaired to a nearby pub to discuss the outcome, before the long (60 mile) drive home...
Firstly, the Chiropractor (who is lovely, gentle, and obviously loves dogs) diagnosed Cato has hypermobile joints (stance, flexibility and overextension of joints).  Interestingly, I have hypermobile joints too.  So I know EXACTLY what it is like, the management, and the ongoing problems that arrive with time and age.
She took a very thorough case history, and a very detailed examination, and was fascinated to get the chance to compare him with Little Miss Bounce's conformation and muscle tone, and joint flexibility.  Then she spent about 25 minutes massaging and tweaking, and doing the percussive McTimony manipulations, while she worked on his issues.
You ready for this?  She adjusted/corrected the following:
- occipital bone (v slight displacement)
- something in his shoulder/left side of neck
- slight kink in spine at lumbar vertebrae (this was causing the recent agony, probably caused by Tara standing/bouncing on him)
- two minor pelvic adjustments, one at sacro illeac joint, and one in same place as previous injury
- a tiny muscle tension kink halfway down his tail 
- something similar at the base of his tail
- a slightly sticking out rib on one side (which has ALWAYS been there!  But now lies perfectly smooth)
- over extension of wrist and ankle joints
Basically, she said that with hypermobile joints, once one thing (probably pelvis) is knocked, then the effect richochets up and down the spine and legs in the form of muscle tension and weakness.  Then any forther impact (slip, trip, fall or Bounce) risks knocking another joint.  She said that she often encounters dogs where the original injury stems from when they were spayed or neutered.  Unconscious, on their backs, strapped out on the operating table.  Very likely this happened with Cato's pelvis, especially with the hypermobile joints.
he will be sore for a day or two from today's treatment.
I now feel like the Worst Paw Mum in the world!  All those minor little kinks and displacements...  All tiny little injuries that happened on MY WATCH that I didn't know about, and that have been causing him anything from minor balance adjustments, to aches, to major pain... and also laying him open to more injury
i feel absolutely awful.
I asked for, and received, a very careful lesson in lifting him.  Apparently, we need to pick him up like a rabbit.  We must reach with one hand from the side, under his ribs, then slide the hand forward between his front legs.  Once there, we lift until he is standing on his back legs.  Then, second hand strokes down over his hips and between his legs.  Then we lift, keeping his spine relaced and straight, and cuddle him securely.
Dad is now scared to lift him AT ALL.
We always thought we were lifting him carefully and correctly.  But no.  Not for his hypermobility.  He needs a Rabbit Lift.
No more long walks.  No more than a mile.  Several days rest while he recovers from today's treatment, then a gentle work up to his mile, with soft surfaces, where possible.  He is going to go stir crazy with Sniff Deprivation!!!
She was delighted at his diet (raw) and his supplements (probiotics, fish oil and liquid formula for joints) but says we must switch to a harness to protect his spine.  Recommended a 5 point adjustable harness, and advised getting it professionally fitted.  May have to travel for this.
https://www.dog-games-shop.co.uk/perfect-fit-fleece-dog-harness.html
and we must somehow stop the Tara Bouncing, since if it continues, further injury is... kind of inevitable.
during our little walk to the pub after the appointment, I was fascinated watching him walk.  Such a difference!  New head angle.  New leg swing.  New stance.  Each very slightly different, but adding up to a more easy gait.  Even sore from the appointment I could see he was somehow more easy.
So, my friends, i can buy a harness, lift him and walk him exactly as prescribed, continue to give him the best possible diet, BUT HOW THE HECK DO I KEEP TARA FROM BOUNCING ON HIM???
We have been almost managing it for the last few days, and it is very difficult.  To keep it up permanently... seems impossible.
She needs to Bounce so much that it sparks off her.  The lack of Bouncing this week has built up a pressure of Bounce Steam that is due to explode any second.  And she wants to Bounce on Cato.  She loves him.  She loves to play with him.  It is her Joy. She expresses her love by Bouncing.