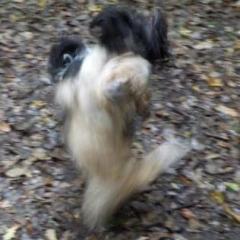 Entry posted by Crinkly ·
283 views
Cato:
aunties, my back hurts. ?
it was a bit hurty before, and my ankles were a bit wobbly, and Mum was thinking that I should go see Mrs Vet (once Tara's bobble was gone).
but then she got better after the op, and she Bounced on me.  A lot.  Mum tried to protect me, but she couldn't stop all the Bouncing.  Tara does big running up and down and leaping.  And woowoowooo!  And mugging and stuff.  And my back hurts.  Mum says she is veryveryvery sorry.  MrsVet says my back is soresoresore and there is gooey stuff to go on my breakfast, to stop it hurting.  That helps.
MrsVet told Mum I have to be lifted up and down, and no walkies, and i must lie with my back straight.  And we will see wot happens when the inflamflamashun stuff goes away.
and we are going to see MrsPawChiropractor next week.  Mum says she went to see MrsPC before, with Sidney, and MrsPC helped him and made his paw non-hurty. 
So she will make my back non-hurty too.  Mum says.