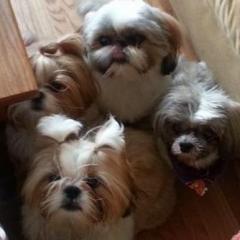 Entry posted by Sunlite ·
205 views
I am sorry to say the play has been postponed till mid May.
There were just too many obstacles to cope with and this was decided last night between cast and director.
To say that this play has been a challenge for our poor Director is putting things mildly.
Poor Diane has had her hands very full. There are several characters in this play and we are really a good cast, she really chose each of us carefully and we compliment each other well. She has not been able to cast one vital role. She had tried several times and twice, she thought success only to have one change his mind (he said he took another part) and the other she didn't say. Being that we are supposed to be off book this coming week and not having a vital character cast, makes it hard to move forward.
On top of that, the space she was supposed to be renting for the show turned out not being available, but she did finally find another and it may still end up there. My counter in the show has fractured his tail bone in an accident this past Wednesday and is not able to move very well, and there are some other challenges. Rehearsal schedules have been changed multiple times, some being decided last minute as well as taking place on weekends and such to try and accommodate people not being able to make it and such. Lets just say it's been a little trying to change agendas at a moments notice.
She wants to try and keep this cast as she feels we are all perfect for our roles, but understands if we don't want to commit. My only conflict is I love doing the melodramas, have been in the last two. It's held directly the same time as this play will be so it'll have to be one or the other.
I am really leaning towards this role, as it's so different from anything I've done but the melodramas are so much fun.........
Even though this show will be postponed, they are looking for some short one act plays to fill in the slot this was supposed to happen, looking into later Sept. She is supposed to send us audition info for it by Sunday, we'll see what I decide.
That's it for now.................