FRIDAY 22nd Apr: Pinkfest
---
Cato::
It was really peaceful this morning.  Cos we slept all the time.  Cos we were tired after Auntie Kim.  But Tara woke up before I did.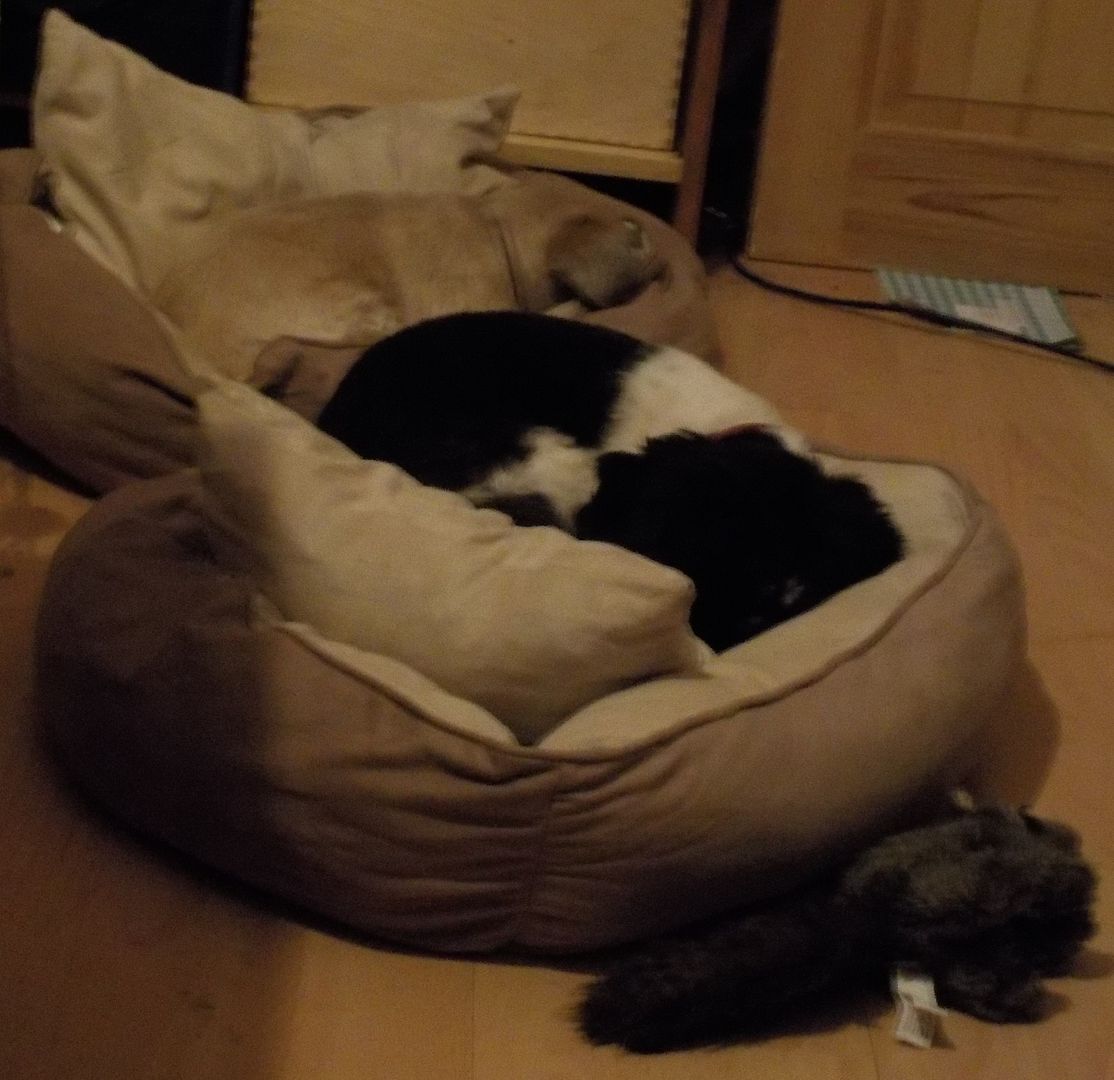 Mum says sorry for the awful pic, but she was trying to take it around the corner of the desk so as not to wake us up, and she couldn't hold it still.  If that makes sense to you.  It doesn't make sense to me.
And then we had a non-green and non-sniffy walk, too.  Something about not wanting to move the car cos we had a good parking space.  Weird, huh?
This is Tara's pink lead and my brown one.  Mine is nicer.  It isn't so girly.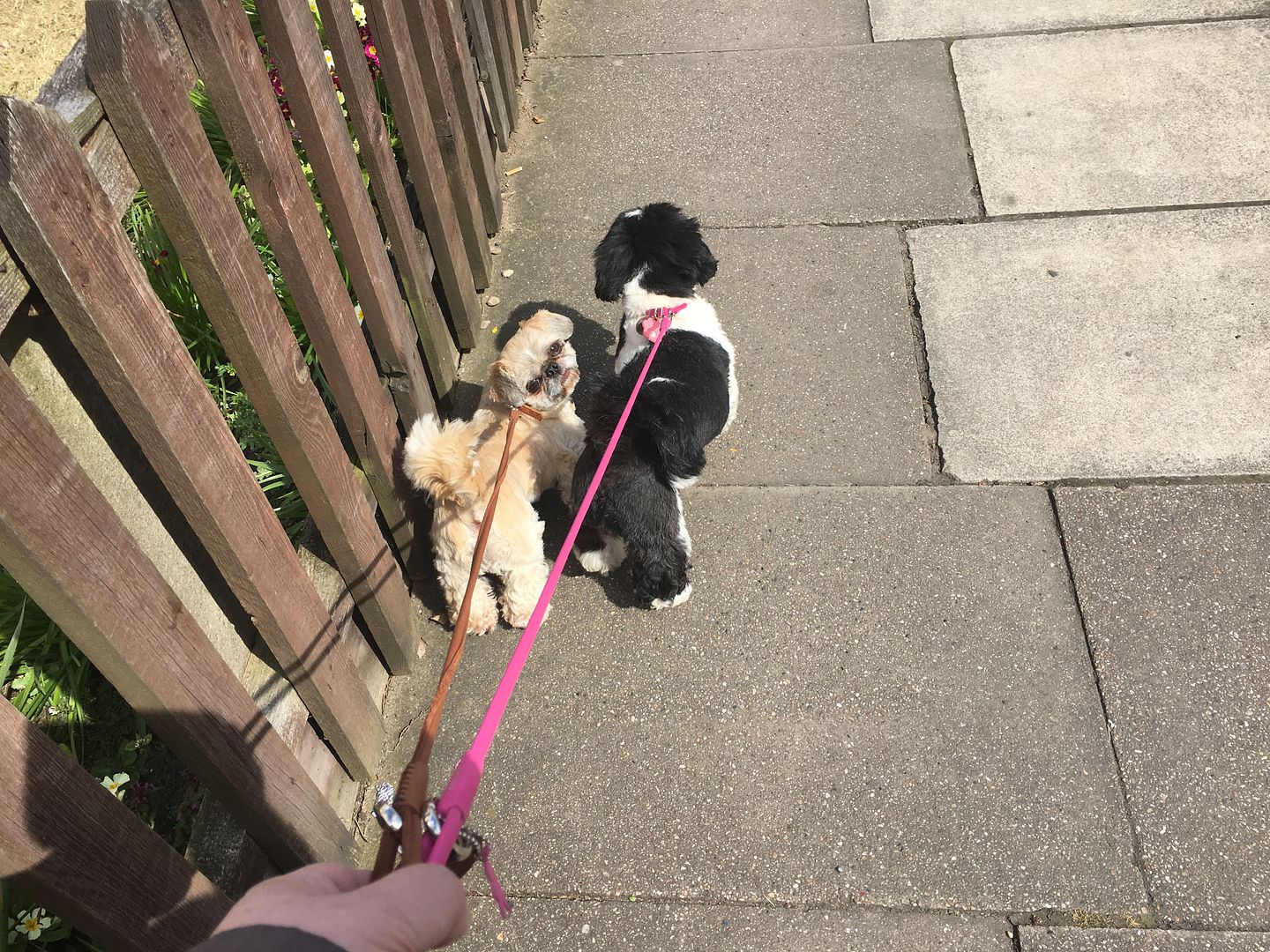 But by the time we got back from the walk, nice Mr Postman had been, so we got to rip the packaging up on two letters and a package.  We have to wait patiently until Mum gives us the paper, but it is still pretty exciting.   Then Mum fussed with our collars and stuff.  And my new collar is lovely and soft.  Softer than the last one.  And it smells more leathery.  Mum says it is a beautiful colour on me.  But anyway, Tara wants her turn now, or she will explode with excitement.  
Tara:
Look at MEEEEEE!!!!
This is all my new PINKness.  I have a new pink collar.  And a lead - but that is hanging up where I can't reach it.  I know that cos I have tried to reach it, and can't.  And my new pink pendant.  And my new pink hairbands.  Mum says I am squinting into the light, but I am NOT.  I am being a Pink Queen. With 3 crowns.   And Cato knows it, cos look how grumpy he is being.  He is still tired from yesterday.  Cos he is a wimp.
This is another pic of me with my 3 sprout crowns!
I wanted more, but Mum said that 3 crowns were silly enough.

It was all so exciting I had to beat Cato up.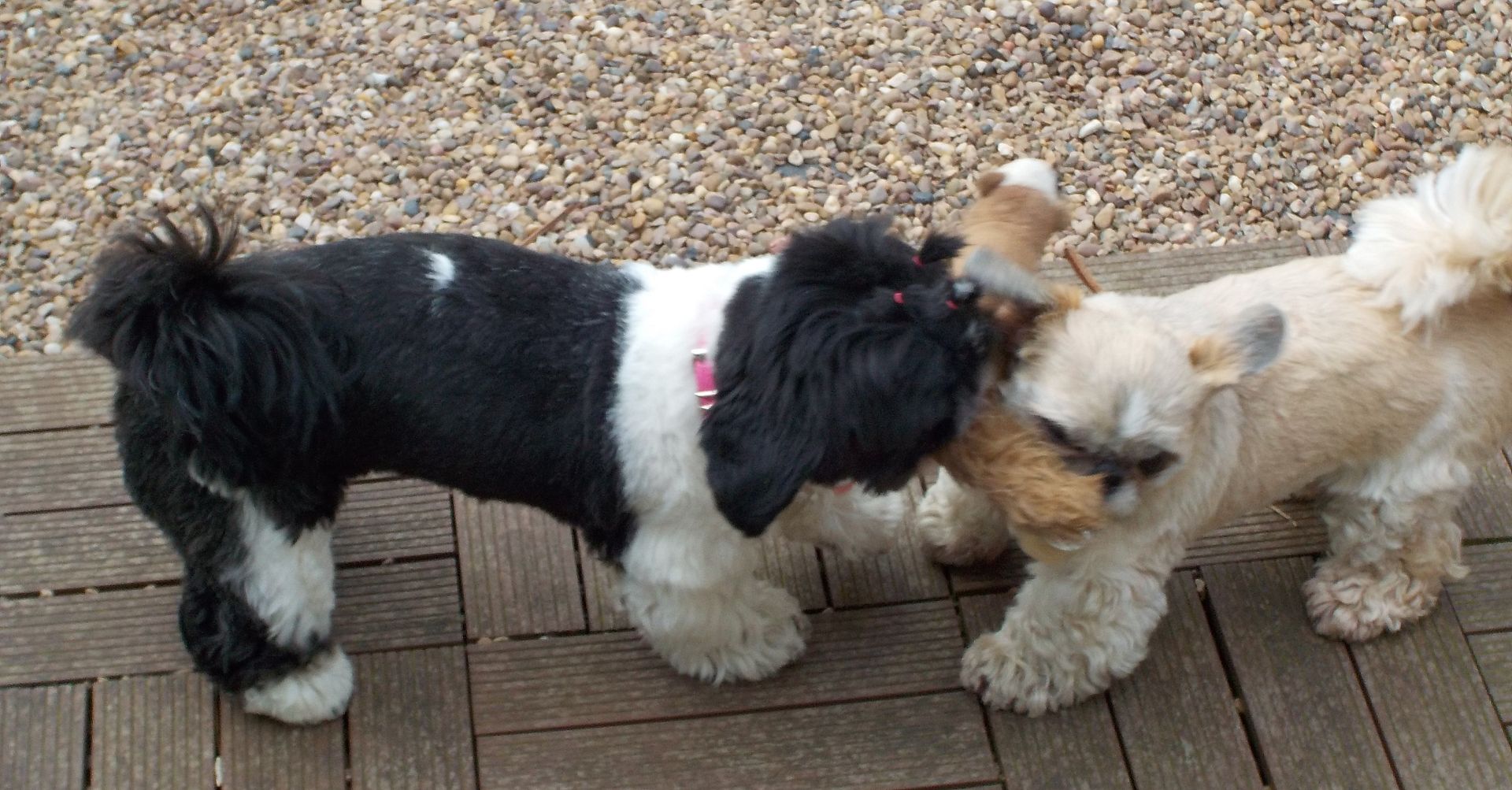 This is when I had him in a Full Nelson.  That'll teach him to laugh at my PINK.  And grump at me on my first ever PINK Day.
Mum:
How long do you think this pink frenzy will last, do you think?  Will die down in a week or so?  Please say it will...
We spent some time down the side alley this afternoon after work, checking on my ferns.  No sign of slug activity (I have been pelleting with that new organic pellet stuff) but the hosta isn't poking through yet.  I was pleased to see nice fat new fronds developing on several of the ferns though.  Time for a good feed.  And I think a couple of the pots didn't make it through the winter.  So a trip to the garden centre is in order.  Oh the hardship!  I need to have a good tidy, but... I keep seeing spiders' webs.  Shudder. Need to be brave.
(see the fight going on top right of this one?  They stole a plant label.)
and these are my sunbathing strawberries.  I had 3 varieties last year, but only 2 seem to have made it through the winter.