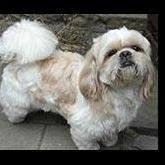 Entry posted by PipsMom ·
456 views
Abby
We had a great day on what mommie called Christamas...What ever that waz but it was different than the other days as mommie and daddy had all sorts of nice thinks around to munch on. Pip and I couldn't understand what all the fuss was about really. Usually after breakfast mom takes us upstairs so she can play fix the picture on her computer all day....I'm a stickler for routine and mommie definitely wasn't on routine...It just wasn't normal I tell you...And I Don't Like Change ....no sir ree 
 Mom forgets, so I tried telling her by sitting at the bottom of the stairs and talking in my highest voice....and all she said was not today sweetheart...WELL Why Not?
Humans had brought sniffy boxes and bags into the house and they appeared out of thin air this morning too .......
   ......And I didn't know what they were but I sure wanted to tear into those boxes....Amazon always comes in boxes and its always for ME.....so why didn't they let me tear into them? Humans are weird I tell you....I want my routine back 

Guess what mom and dad did? They tore the paper off themselves off of MY boxes...It was shocking to watch...not fair I say...Thats My boxes and MY bags...mine, mine, mine 
Finally mommie set down 2 bags......One for ME and one for Pip on the floor...... WELL!!!! .......let me tell you Aunties.......Pip must have been peed off by this time too...cause he wouldn't have anything to do with the sniffy bags but I am Zina Super Amazon Woman....so I inspected the suspicious bags and there were a little green man inside both bags.....I'm not lying...It was a little green man I tell you..2 of the buggers. 
Now I don't now who sneaked into our house but they were still here cause I found them hiding inside the bags still...So I attacked them.....Watch me in action here   IMG_4173.MOV
Slick moves even Tara would have been impressed...she's my Ninja moves fighting hero ya know
After I beat them into submission they just sat quietly and did as they were told
Watch it you two or I will use my moves on you again and wipe that stupid grin off your face...
Pip never did trust them and yet to even sniff it ....so mom put one by him on the sofa and had dad to hold and protect him in case they pounced....Its alright Big Brother, I have already taught it a lesson so there is nothing to be frightened of
I got bored so mom let us outside....It was lovely all sunny and warm...just a like spring day........ except our back yard is full of mud cause Pip and I killed all the grass but we didnt care it was Spring...well I think its spring what ever that is cause mom kept saying its spring today.
We played so hard and boy did we have a good time running around..Us getting so muddy mom couldn't bear to look........Thats when I found IT ...At the base of a small tree thingy where I like to sniff and bury my nose into wet dirt sniffing out any dangerous worm creatues that might come out and Grab us under......I can hear you creature scum and I'm gonna have you TODAY! I dug a huge deep hole straight down to China mom says........boy did that sniffy dirt taste good..... I came inside and tell to tell mom they are safe cause I killed the worm creature and found in trying to escape out in China...But she wasn't impressed with my digging skills and guess what she said Aunties? All she said was OH Abby..just look at your face..all that wet dirt
 She goes off mumbling someting about bathes and brushing out when we dry...you know unimportant stuff
Look at me Aunties.....Santa brought me a huge hole and I am proud I saved the day