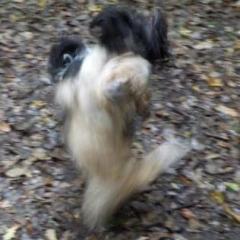 Entry posted by Crinkly ·
441 views
Cato:
So Mum woz doing lamb hearts tonight for our tea.
She stood chopping them up for AGES.  They have these lovely chewy pipe things on the top end, and Mum was cutting them off and throwing them for us.  I was good and sat on the rug, like I am supposed to, and Tara was almost good and sat closer, near the water bowl.  So I got extra bits, and Tara didn't

  until she came and sat with me, then we got the same amount of bits.

Then, at the end, we each had a nice big juicy bit of lovely bloody chewy heart.
All the rest went into Mum's slow cooker thing

 with veg stuff and wine stuff.  But she says that if we are good we will get a bit of cooked heart when it is all hotted and finished.
Lamb hearts are very very yummy.
Mum likes them too.  And Dad.  But I like them best!