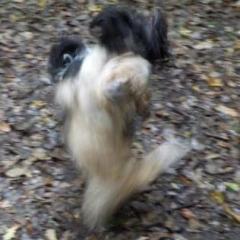 Entry posted by Crinkly ·
255 views
Cato:
Aunties I'm sorry.  You know how I like Mum to write wot I say so that you can see my tail, and see how silly Tara is, and see our adventures?  Well Mum has been doing so much stuff that she hasn't been taking dictation!
There was the office chair Thing, where Dad's chair broke, and Mum's chair went to live with Dad, and Mum now sits on the grooming stool, which is hard, and her bum hurted until she got a cushion.  And that meant she didn't like sitting at the desk for dictation.  Though she always sits at it for her horrible Work Stuff. 
And there was the Lost Camera Thing, where Mum and Dad both thought they had lost the pic camera, but it turned up under the passenger seat of the car.  That is on Tara's side, so obviously that was her fault.
And there was the Lots of Boring Work Stuff Thing that has been going on since before my birthday!  Agesandagesandages.
But I have telled Mum that she HAS to start blogging again, or we won't let her come on our walks with us.  And she says she will.
Anyway, here are some of the pics that you have missed, from the lotsandlotsandlots of walks we haven't bloggified about, cos Mum is a BAD Mum.
That is Tara slobber on the lens again, says Mum.
Me having a pee on the buddleia
Bees on the Buddleia.  Do you think they are weeing too?
This is elder.  those bobbles are going to be berries.
Tara being a pest.
a lot
and a lot more
I just got bored, in the end
but then she went for my tail!!!!! 
the Entmoot